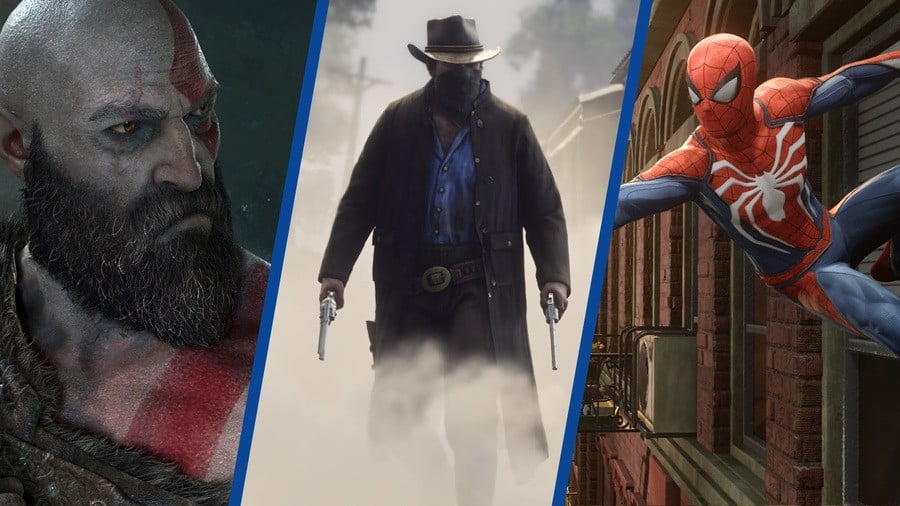 Last year's PS4 software lineup was incredibly strong, but looking to the year ahead, we still have plenty of great-looking games on the way. The variety on the horizon is insane; Japanese games are back, Sony's first party studios are cooking with gas, and there are titles of all forms coming from developers big and small. With so much to look forward to, we've all been having a think about what we're most excited for, and the results span everything from AAA exclusives to indie delights. Without further ado, let's get stuck in - there's a lot to get through.
Sammy Barker, Editor
Sony's concept demo The London Heist really teased the power of PlayStation VR, but could be completed in under an hour. Thank heavens the publisher has opted to expand upon the idea with Blood & Truth, then, a virtual reality shooter that looks to have really playful combat mechanics and production values on par with a AAA blockbuster. The mix of Bond and Bourne is right up my alley.
Media Molecule's Dreams has been a long time coming, but it's looking like an awards magnet. While it's becoming increasingly obvious that Sony's marketing department is going to have its work cut out actually selling this art-house experience, I personally can't wait to tinker with its outrageously in-depth creation tools for myself. But more importantly: I'm eager to see what the community makes with it.
I don't expect Shenmue III to be particularly good when it releases - in fact, I foresee plenty of below-par review scores. But the most important thing to me is that Ryo Hazuki's story will trundle along, and given that the previous instalment is still my favourite game of all time, it'd be insincere of me to not include Yu Suzuki's latest on this list.
Robert Ramsey, Deputy Editor
As a massive fan of both fighting games and Dragon Ball, Dragon Ball FighterZ is basically a dream come true – or at least, that's the hope. From what I've played of the beta, this could end up being one of the greatest anime brawlers ever made, and it looks downright incredible to boot. Deciding on my main characters is something that'll keep me awake at night.
The mainline Dragon Quest series is finally coming back to PlayStation, and it looks spectacular. Dragon Quest VIII on the PS2 remains one of my favourite games of all time, so here's hoping that Dragon Quest XI comes close. There's something about Square Enix's series that makes it timeless, and I can't wait to get stuck into a whole new adventure.
I've always enjoyed God of War, but I'm more excited for the upcoming PS4 revival than I ever have been for any of the previous entries in the series. I'm loving the look of the less over-the-top combat system, and I'm really interested in seeing how much of an action RPG the finished product is. Ultimately, though, I just can't imagine it being anything less than stellar.
Stephen Tailby, Senior Staff Writer
We may only have a minute-long trailer to go on, but this bright, brash arcade racer from the team formerly known as Evolution Studios is already high on my list for 2018. PS4 has a lot of great games, but a surprising lack of good arcade racing titles. With shades of MotorStorm and oodles of style, this is already looking like the game I've been waiting for since this generation started.
Rockstar's superb open world western was one of my favourite PS3 games, and I'm tremendously excited that we get to ride back into that effortlessly cool setting once again. From what we've seen, it's looking great. We may have more than our fair share of sandbox titles this generation, but I'll happily make room for this one, which will hopefully be just as beautiful and alive as the previous Red Dead, if not more so.
While Spidey has had some decent video game outings, it feels like the ever-popular superhero hasn't had a truly stellar instalment since Spider-Man 2, all the way back on PlayStation 2. It's with fond memories of this title, combined with Insomniac's incredible reputation for action games, that I anticipate their upcoming webhead adventure, which is looking, dare I say, amazing. My spider-sense is most definitely tingling.
Alex Stinton, Reviewer
Red Dead Redemption 2
Whenever a new title from Rockstar Games gets released it's an event, a great big one, which means that when Red Dead Redemption 2 drops at some point this year, the shockwaves could well shake the pillars of heaven. Ok, I might be exaggerating a little bit, but a lot of people – myself included – are looking forward to this sequel. Yes, the pacing will probably suck, and I'll have no idea why people like whatever online mode is included, but I really would like to bask in the big-budget majesty of its story.
Spider-Man
In my mind there's never been a truly great Spider-Man game, but if anyone can deliver one it's Insomniac Games. All it needs to do is bottle some of its magic from Sunset Overdrive – I'm still bitter there probably won't be a sequel – sprinkle it liberally over its traversal mechanics, and draw deeply from the well of Spider-Man lore for their story. What could possibly go wrong?
Over the past few years I've looked forward to my annual jaunt into the world of Yakuza, and 2018 is no different. With the next entry in the Kazuma Kiryu's saga around the corner I couldn't be happier, especially since this sequel promises a visual boost that'll make Kiryu's steely glare - just before he punches some fool in the face – look even better.
Gabriella Petty, Reviewer
I'm a sucker for gritty survival horrors as my love for The Last of Us can surely attest, and this looks to certainly pack the punch and potentially deliver a fantastic story. It's a game that I want to be challenged by and to push the importance of survival to the next degree, so if the finished product is anything like what we've seen so far, it's certainly on the right footing.
This caught my interest back in 2015, and I was fortunate enough to get to play it at EGX last year. Believe it or not, I appreciate David Cage's ambition and vision with his games, and I'm hoping Detroit will be no exception to this rule come to its release. Still waiting for a date though, Quantic! Time's tickin'.
God of War
I spent a long time a few months ago powering through the God of War series from start to finish, including its PSP brethren, and had tons of fun doing so. With this new iteration, I'm looking forward to its tonal shift and narrative, as well as getting to explore the relationship between Atreus and papa Kratos for the very first time. I have a feeling it'll be a real rocky rollercoaster, for sure.
Graham Banas, Reviewer
While not finished yet (4 out of 5 episodes are out now), the game is actually already my number 1 favourite game of all time. Annapurna Interactive stepped in to help Cardboard Computer bring this masterpiece to consoles in 2018, and that brings with it the fifth and final episode. If this game is my favourite of all time before it's finished, I can't imagine how much more I'll love it once it's actually done!
4A Games is one of my favourite devs in the industry. The world they created around Dmitri Glukhovsky's post-apocalyptic novels are bleak and delightfully realised ideas of what Russia would be like after the world ends. The first game in the series, Metro 2033, is my favourite shooter of all time, and the more open-ended looking nature of the third game of the series looks like everything I could have ever hoped for so far.
Spider-Man
Insomniac's web-slinging adventure is something I was excited about even before we were shown any footage of it. The prolific dev seems like a perfect fit for Marvel's most popular hero, and once we started getting glimpses of the game, my hype has only gone up. The open-world adventure looks beautiful, the gameplay looks fun, and the promise of getting to spend time as regular ol' Peter Parker sounds like a wonderful idea.
Jacob Hull, Reviewer
With beautiful Studio Ghibli led visuals and a Welsh-accented plushy come to life, the original Ni no Kuni is one of the most charming and engrossing RPGs I've played. With a new story set in the future of the same fantastical realm, the follow-up promises a new battle system in which you wield "Higgledies" – spirits of the heart – which looks less Pokémon and more Pikmin. Needless to say, Revenant Kingdom is looking just as charming and imaginative as the original.
The original is regarded by critics as one of the greatest games ever made, and I'm of the same opinion, but it was tragically under-appreciated by consumers. This remake provides the opportunity for many to experience this truly stunning piece of art – where you play as a young wanderer in a forbidden land who must defeat massive, hulking colossi to revive a young girl – for the first time. With restoration specialists Bluepoint Games at the helm, it's in very good hands.
Spider-Man
It's been a long time since we last had a decent Spider-Man game, and I'm more than ready to suit up as one of my favourite childhood superheroes again. In development at Insomniac Games, I expect plenty of well-polished gameplay, but its limited experience with truly open-world game design leaves just enough grounding questions to keep me on edge. If early footage is anything to go by, however, Spider-Man is shaping up to be an excellent PS4 exclusive title.
Jade Sayers, Reviewer
I really loved the first Attack on Titan game, so I'm really looking forward to slaying some more titans in the sequel. The news of the multiplayer has got me even more hyped, and I'm excited to team up with my friends (i.e use them as titan bait) to slay some enemies. I love the anime, so it's really great to feel like I'm part of the incredible story and in amongst the action, and I can't wait to play as my favourite characters.
Okay, so I've totally cheated for this pick and I've combined two games, but asking me to pick between Persona 3 and Persona 5 is like Sophie's Choice, and I'm just not going there. I found that Persona 4 Dancing All Night was surprisingly entertaining for a rhythm game, and I enjoyed it way more than I had expected to. Whilst it is going to be weird seeing the Persona 3 and 5 protags throwing shapes, frankly I'm a sucker for anything related to Persona, so I'm all in.
Red Dead Redemption 2
Like multitudes of other people, I really loved Red Dead Redemption. Something about the Wild West really appeals to me, and I found it was the perfect setting for the game. I'd got to a point where I thought a sequel wouldn't happen, so I'm really looking forward to delving back into the Wild West with Rockstar to see what they can come up with to enthral me this time around.
Jenny Jones, Reviewer
Atelier games are my guilty little pleasure. I know that many consider the series to be fairly average, but I find it really charming. Every game has a slightly different combat and crafting system so there's plenty of fun to be had in learning how to master them. I'm looking forward to the conclusion of the Mysterious trilogy, although I am slightly disappointed that it's not being released on PS Vita in the West.
Ni no Kuni II: Revenant Kingdom
With every new trailer that gets revealed I find my excitement levels rising. Ni no Kuni II's world looks bigger and even more beautiful than the first. The combat system looks much more action packed, and I'm interested to see the new RTS skirmishes. I'm also really hoping for plenty of lush Welsh accents!
I've been following this game for a while and even its many delays haven't dampened my anticipation for it. I spent hundreds of hours exploring Rainbow Moon, and it looks like SideQuest Studios has really gone all out on creating plenty of entertaining new systems, so I'm really expecting to sink tons of time into this one. I'm especially looking forward to breeding monsters to fight by my side and going treasure hunting.
John McCormick, Reviewer
Detroit: Become Human
This is a weird one for me in that I don't really like any of the Quantic Dream games, but the setting and the subject matter here is so up my street that I'm giving it the benefit of the doubt. Hopefully the writing in Detroit is a little better than the studio has managed previously, and it's leaning more toward Ex Machina than I, Robot.
God of War
I've never been particularly taken with the God of War series. All of the blood, guts, and dismemberment is fine and dandy, but it'd probably be a lot more meaningful if Kratos was more of a character and less of a furious shout in human form. God of War still looks like it'll be an angry and violent affair, but it also seems to be aiming for a little more narrative heft this time around.
Ni no Kuni II: Revenant Kingdom
Ni no Kuni was my favourite JRPG of the PS3 generation, which isn't exactly saying much, but is true all the same. I've been excited for a sequel ever since the credits started rolling on the original game, and I'm happy to see that Ni No Kuni II looks to be delivering on all fronts. It's beautiful, the combat looks fun, and it'll be years before we get Persona 6. This'll do nicely.
Ken Talbot, Reviewer
God of War
Alongside the storied adventures of Solid Snake and his genetic line, God of War is one of my favourite series. The epic sweep and spectacle of Sony Santa Monica's personal spin on Greek mythology has always appealed. I'm looking forward to the big changes this title has in store for Kratos, as well as the changes to the brawler mechanics and the shift in setting and mythos.
Red Dead Redemption 2
The big one. I didn't spend much time with GTA V's multiplayer component, so I'm salivating at the prospect of another Rockstar single-player adventure. The last game in the series was nothing short of a masterpiece, and set a standard that nobody has yet managed to meet. Hopefully, RDR2 can prove a worthy sequel.
Spider-Man
If there is even the slightest chance that Insomniac can recreate the open world magic of Spider-Man 2, I am in on the ground floor. The combination of the Spidey license and the developer's history of fun super-powered sandboxes certainly promises great things.
Liam Croft, Reviewer
After getting to play the opening 20 minutes of Forgotton Anne at EGX last year, I was absolutely blown away. This title is shaping up to be so much more than your bog-standard 2D platformer thanks to a stunning art style, interesting mechanics that change your approach to puzzles, and an intriguing storyline with a potentially excellent cast of characters to boot. This one could be something very special.
God of War
2018 doesn't get much bigger than what is shaping up to be the greatest entry in the God of War franchise yet. Kratos' reboot has me incredibly excited thanks to how much of a departure it is from anything the series has offered up in the past. Sure, I could have mustered up some amount of buzz for another dive into Greek mythology, but the Norse approach this time around is just so refreshing.
Spider-Man
When I was growing up, an Ultimate Spider-Man comic was never too far away. The web slinger was, and still is, my favourite superhero, and so it's easy to see why I'm very, very thrilled about the upcoming PS4 game that will allow me to fulfil my wildest arachnid fantasies. If Insomniac gets it right, Spider-Man could go down in history as one of PlayStation's greatest ever games, and in turn, sell a monumental amount of copies.
Sam Brooke, Reviewer
It's crazy to think that the excellent Ace Combat 6 came out over 10 years ago, but that's how time goes. It's certainly been kind to the series - my recent playthrough of AC6 was fantastic - so I can't wait to see what Bandai Namco have in store for the world of Strangereal, which seems to look even more beautiful in every new trailer.
Red Dead Redemption 2
While I'm a little wary of the possibility of microtransactions and focus on multiplayer, if there's anyone I can trust to make a damn good game, it's Rockstar. It feels like the Old West has been neglected in recent years, so I can't wait to get back into the dark world of robbery, kidnapping, and duelling in the shoes of another outlaw.
I was a huge fan of Assassin's Creed 4: Black Flag, so hearing that Ubisoft is essentially making a pirate game without all the AC fluff has gotten me excited. The singleplayer campaign sounds like it'll be rich with ships to plunder, and the opportunities for customising your ships and crew should provide good opportunity for creativity. Here's hoping Ubisoft don't drown it in microtransactions.
Simon Fitzgerald, Reviewer
As a huge fan of the roguelike genre, Moonlighter looks like a unique twist on it. As you explore dungeons, you have to look for the most valuable items to loot. You then open up a shop to try and sell your trinkets. It's looking to be a very unique idea and I'm very excited to try it out.
Shadow of the Colossus
This is practically a new game… Well, for me it is anyway. I managed to miss Shadow of the Colossus when it first launched [How the heck did you do that, yer chuffin' nob? - Ed] and so seeing the trailers for this updated version is really exciting. I can't wait to finally play the game that everyone talks about being a must play and a classic in PlayStation history, I just hope it lives up to all the talk.
This is a bit of nostalgia hitting me, I have to admit, but ToeJam & Earl was one of my first games that I played back on the Sega Mega Drive. Hearing that they are returning on the PS4 definitely gets me hyped, and if it can live up to their original adventure, then this is sure to be a diamond in the rough.
---
Phew! That's it from us - but what are you looking forward to playing in the coming months? Are there any glaring omissions from our staff selections? Take a look at our guide to some of 2018's most exciting games to refresh your memory, then head straight back and tell us what you're hyped for in the comments below.