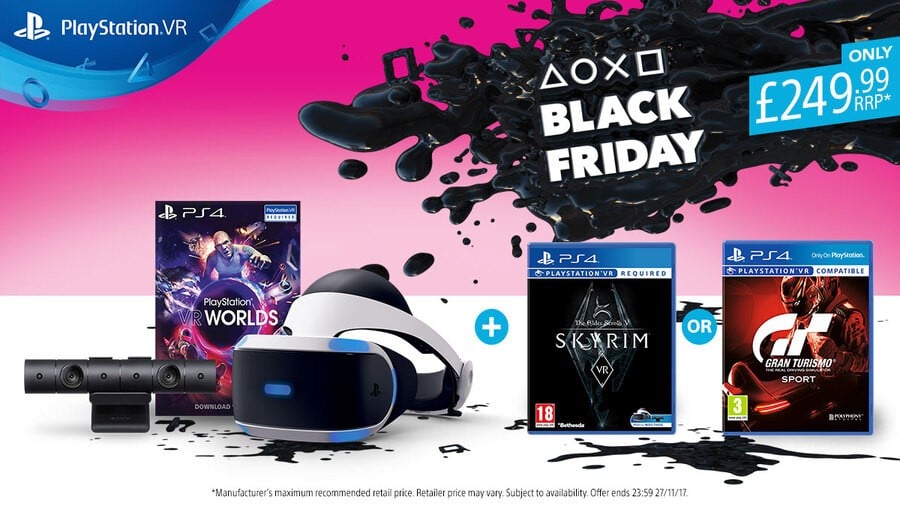 PlayStation VR's price has been temporarily slashed in the UK, with The Elder Scrolls V: Skyrim VR and Gran Turismo Sport bundles available for £249.99 for a limited time. Both sets come with a headset, a PlayStation Camera, and a copy of PlayStation VR Worlds. This is an absolute bargain bin price point, representing a whopping £100 saving over the recommended retail price.
The offer's set to run until 27th November, while stocks last of course. It's perhaps worth mentioning that the bundles do include the launch model headset, so you may want to wait for the new revision to enter the retail channel if you need the Processor Unit with HDR passthrough. If you can live without that feature, though, we'd recommend jumping on this right now – it's an amazing offer.
Should you buy Skyrim VR or Gran Turismo Sport?
Obviously it's going to depend on tastes, but based on our hands on impressions thus far, we'd recommend you go with The Elder Scrolls V: Skyrim VR. While there's fun to be had with Gran Turismo Sport in virtual reality, the game is extremely limited when you're wearing the headset, so you're not actually going to get much value out of that feature until Polyphony Digital (inevitably) updates the functionality.
Skyrim VR, meanwhile, is the biggest you'll find on PlayStation VR by a country mile – it includes the entire original campaign and all of its expansion packs, so you're looking at a 150 hour adventure here. It also translates to virtual reality incredibly well, augmenting Bethesda's ginormous open world with an all-new sense of scale.
You can read more about our thoughts on both games in our Gran Turismo Sport PSVR hands on and our Skyrim VR PSVR hands on. Also, don't forget that these bundles also include PlayStation VR Worlds, and you can read our review through here.