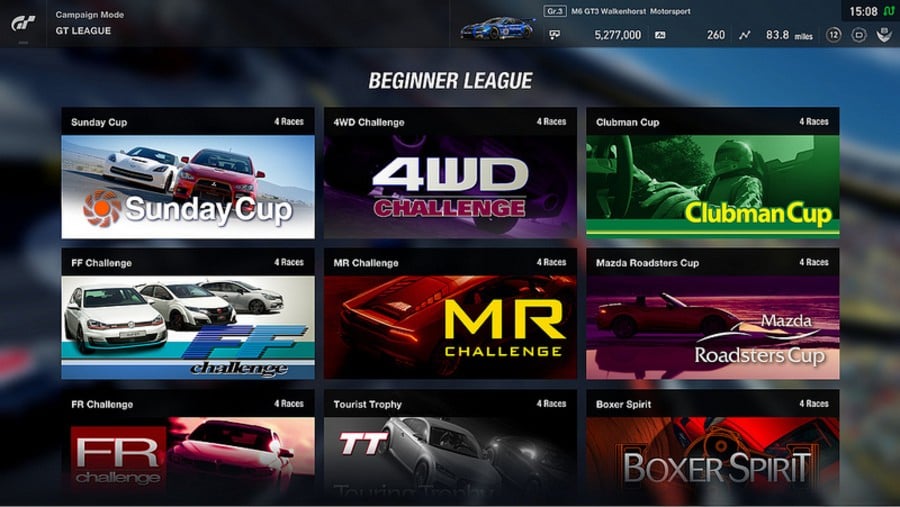 Well, then. The biggest criticism pointed at Gran Turismo Sport was that it lacked the franchise's traditional single player campaign mode – and it looks like Polyphony Digital's taken that feedback to heart. Starting in December, it will roll out an enormous new update incorporating what it's calling the GT League – but it's essentially just the old tournaments that you know and love.
This means that, yes, Sunday Cup will put in its long-awaited appearance – alongside other solo tournaments and endurance races. Here's the official line from the PlayStation Blog: "Based on the old 'GT mode' of previous titles, players can now look forward to racing through a series of cup competitions from beginner to pro levels, and even partake in endurance races." Lovely.
The new GT League will release in December, but there's plenty to look forward to prior to that. On 27th November, a new patch will deploy including three free cars: the ISO Rivolta Zagato VGT, the Audi R18, and the Shelby Cobra 427. Patch 1.06 will also allow you to access more features offline, though to save your progress you will still need to be connected for integrity reasons.
In addition, the following 12 cars will be added to the title as part of its December update – again, all completely free of charge:
Mazda RX-7 Spirit R Type A (FD)
Nissan Skyline GT-R V・spec II (R32)
Nissan Skyline GT-R V・spec II Nür (R34)
Ford F-150 SVT Raptor
Lamborghini Countach LP400
Ferrari F40
Ferrari Enzo Ferrari
KTM X-BOW R
Suzuki Swift Sport
Volkswagen Sambabus Typ 2 (T1)
Chris Holstrom Concepts 1967 Chevy Nova
Chevrolet Corvette Stingray Convertible (C3)
"From now to March 2018, a total of approximately 50 cars are already planned for addition to the game," the PlayStation Blog post continues. "And the updates will continue beyond March. You can of course look forward to the addition of new tracks as well, so stay tuned." Perhaps it's worth pointing out that the game is currently on sale on the PlayStation Store, eh?
[source blog.eu.playstation.com]