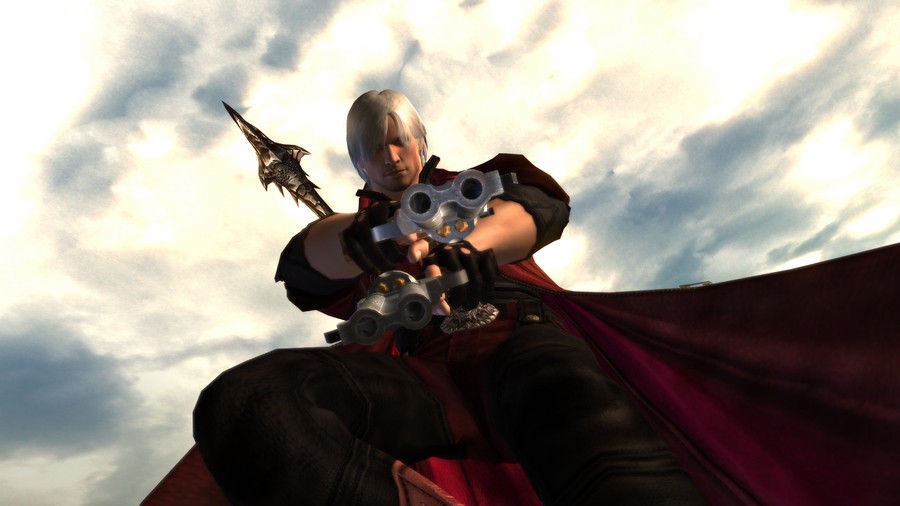 Another week brings more shockingly depressing sales figures for PlayStation 4 fans in Japan. Sony's new-gen system went through a stellar period for a couple of months earlier in the year, but it's really struggling right now, and it's hard to pick out an imminent piece of software that's going to turn its fortunes around.
The console sold just 13,850 units for the week ending 21st June – an improvement on the meagre tally the week prior, but certainly nothing worth shouting about. In fact, it was a dire week for hardware all around, with Nintendo's market leading 3DS barely pulling in many more punters – although the handheld does have the excuse of being at the tail-end of its life.
Devil May Cry 4: Special Edition was the best selling PS4 title, attracting 35,872 demon slayers in total. Minecraft: PS Vita Edition continued chugging with 9,703 units, while The Witcher 3: Wild Hunt added another 6,150 sales to its tally. There's no denying it, though: these are dark times for the Japanese industry. Final Fantasy XV can't come soon enough.
Hardware
New 3DS LL – 17,642 (19,620)
Wii U – 14,616 (16,413)
PlayStation 4 – 13,850 (10,822)
PlayStation Vita – 11,748 (10,797)
New 3DS – 4,506 (4,329)
PlayStation 3 – 2,819 (2,633)
3DS – 1,126 (943)
3DS LL – 790 (880)
PlayStation Vita TV – 540 (566)
Xbox One – 201 (100)
Software
[3DS] Rhythm Heaven: The Best+ (Nintendo, 06/11/15) – 66,416 (224,008)
[3DS] Return to PopoloCrois: A Story of Seasons Fairytale (Marvelous, 06/18/15) – 46,491 (New)
[Wii U] Splatoon (Nintendo, 05/28/15) – 43,653 (310,582)
[PS4] Devil May Cry 4: Special Edition (Capcom, 06/18/15) – 35,872 (New)
[3DS] Dragon Ball Z: Extreme Butoden (Bandai Namco, 06/11/15) – 16,443 (91,102)
[PSV] Minecraft: PlayStation Vita Edition (SCE, 03/19/15) – 9,703 (209,693)
[Wii U] Mario Kart 8 (Nintendo, 05/29/14) – 8,660 (1,037,923)
[PS4] The Witcher 3: Wild Hunt (Spike Chunsoft, 05/21/15) – 6,150 (117,985)
[PSV] The Legend of Heroes: Trails in the Sky Evolution (Falcom, 06/11/15) – 4,666 (25,150)
[3DS] Pokemon Omega Ruby / Alpha Sapphire (Pokemon, 11/21/14) – 4,332 (2,643,436)
[3DS] Girls Mode 3: Kira Kira Code (Nintendo, 04/16/15) – 3,983 (155,177)
[3DS] Puzzle & Dragons: Super Mario Bros. Edition (GungHo, 04/30/15) – 3,848 (266,975)
[PSV] Shiren the Wanderer 5 Plus (Spike Chunsoft, 06/04/15) – 3,553 (25,848)
[3DS] Super Smash Bros. for Nintendo 3DS (Nintendo, 09/13/14) – 3,460 (2,246,991)
[3DS] Animal Crossing: New Leaf (Nintendo, 11/08/12) – 2,621 (3,985,433)
[3DS] Hatsune Miku: Project Mirai DX (Sega, 05/28/15) – 2,533 (54,017)
[Wii U] Super Smash Bros. for Wii U (Nintendo, 12/06/14) – 2,522 (646,705)
[PS4] Alien: Isolation (Sega, 06/11/15) – 2,060 (8,287)
[PS3] Pro Evolution Soccer 2015 (Konami the Best) (Konami, 06/11/15) – 1,882 (3,980)
[3DS] Yo-Kai Watch 2: Shinuchi (Level-5, 12/14/14) – 1,826 (2,616,984)
[source 4gamer.net, via gematsu.com]