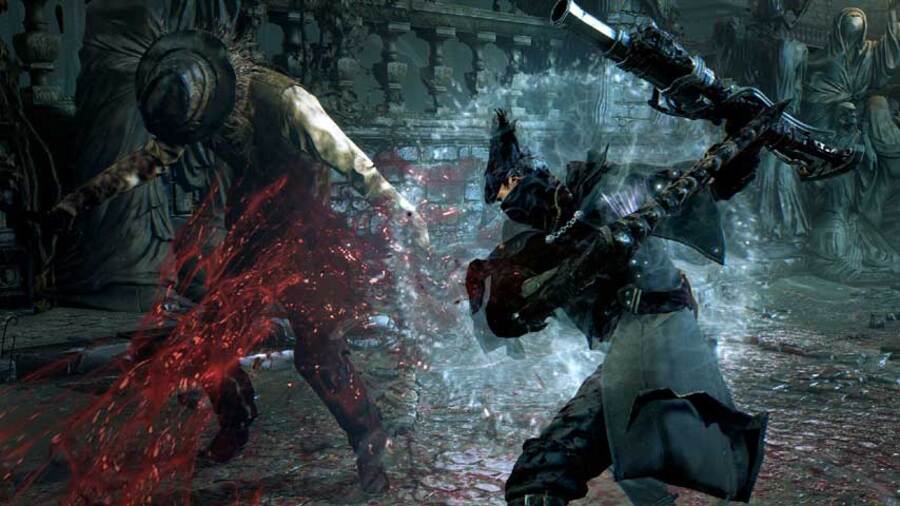 The PlayStation 4 is basking in the blood of its enemies right now, as it's managed to top the Japanese hardware charts for the fifth week in a row.
A slew of big software releases have kept Sony's system in first place, although that momentum could be slowing down soon now that the big hitters have passed by. Still, Bloodborne carved its way to the summit of the software charts, selling 152,567 units.
What's a little worrying, however, is the fact that One Piece: Pirate Warriors 3 sailed into third, but only on PS3, with the Vita version landing in seventh, and the PS4 edition in eighth – the latter selling less than half of what its last-gen counterpart did. Meanwhile, newcomer Senran Kagura Estival Versus bounced into tenth place on Vita, and twelfth place on the PS4.
Do you reckon that this marks the end of the PS4's winning streak in Japan, or will it be able to hold on to its position? Check out the charts, and then ponder in the comments section below.
Hardware sales
PlayStation 4 – 45,446 (46,395)
PlayStation Vita – 26,324 (20,923)
New 3DS LL – 18,823 (17,652)
New 3DS – 7,290 (6,566)
Wii U – 6,698 (7,595)
PlayStation 3 – 6,652 (6,352)
3DS – 2,883 (2,371)
3DS LL – 2,233 (2,115)
PlayStation Vita TV – 708 (639)
Xbox One – 250 (344)
Software sales
[PS4] Bloodborne (SCE, 03/26/15) – 152,567 (New)
[PSV] Sword Art Online: Lost Song (Bandai Namco, 03/26/15) – 139,298 (New)
[PS3] One Piece: Pirate Warriors 3 (Bandai Namco, 03/26/15) – 97,362 (New)
[3DS] Theatrhythm Dragon Quest (Square Enix, 03/26/15) – 76,858 (New)
[PS3] Pro Yakyuu Spirits 2015 (Konami, 03/26/15) – 62,197 (New)
[PS3] Sword Art Online: Lost Song (Bandai Namco, 03/26/15) – 55,090 (New)
[PSV] One Piece: Pirate Warriors 3 (Bandai Namco, 03/26/15) – 54,308 (New)
[PS4] One Piece: Pirate Warriors 3 (Bandai Namco, 03/26/15) – 46,693 (New)
[PSV] Pro Yakyuu Spirits 2015 (Konami, 03/26/15) – 46,326 (New)
[PSV] Senran Kagura: Estival Versus (Marvelous, 03/26/15) – 44,548 (New)
[3DS] Kuroko's Basketball: Ties to the Future (Bandai Namco, 03/26/15) – 35,415 (New)
[PS4] Senran Kagura: Estival Versus (Marvelous, 03/26/15) – 30,247 (New)
[PS4] Disgaea 5: Alliance of Vengeance (Bandai Namco, 03/26/15) – 22,725 (New)
[PSV] Minecraft: PlayStation Vita Edition (SCE, 03/19/15) – 21,069 (57,220)
[PS3] Resident Evil Revelations 2 (Capcom, 03/19/15) – 19,692 (93,065)
[Wii U] Mario Party 10 (Nintendo, 03/12/15) – 17,433 (89,078)
[PS3] Yakuza 0 (Sega, 03/12/15) – 13,813 (189,203)
[PSV] Digimon Story: Cyber Sleuth (Bandai Namco, 03/12/15) – 13,365 (110,291)
[3DS] Yokai Watch 2: Shinuchi (Level-5, 12/14/14) – 12,149 (80,971)
[PS4] Battlefield: Hardline (EA, 03/19/15) – 12,149 (80,971)
[source 4gamer.net, via gematsu.com]