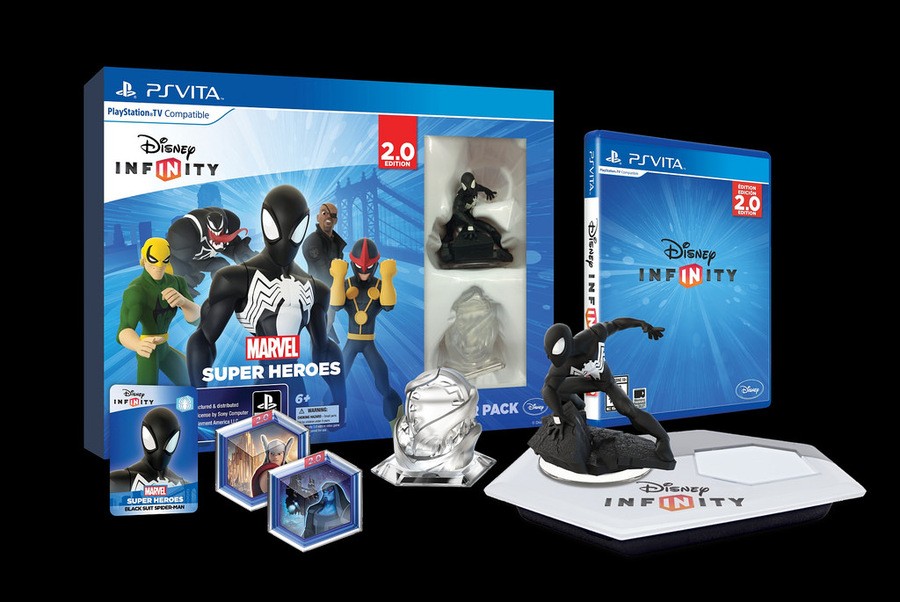 We didn't dream it: Disney Infinity 2.0 really is coming to the PlayStation Vita. You have to understand: we witness a lot of announcements here at Push Square Towers, and occasionally we attribute them to fever dreams. Seeing as we'd heard nothing about the handheld version of Disney's flagship toys-to-life title, we figured that we'd imagined it – but no, it's actually due out tomorrow in North America.
The game will be available at GameStop only, where it will feature an exclusive Black Suit Spider-Man figure as part of its Starter Set, in addition to a Spider-Man Play Set Piece, both Marvel Super Heroes Toy Box Game Discs, a Web Code Card, and a USB recharging cable. It'll set you back a fairly reasonable $59.99, and it's worth noting that the aforementioned web-slinger will work with all versions of the game, so collectors may want to snag it for that reason alone.
Just a note, though: Disney Infinity 3.0 was announced earlier this week, with no mention of it launching on the Vita. There's also no word yet on when this edition of the game will deploy outside of North America.
[source blog.us.playstation.com]