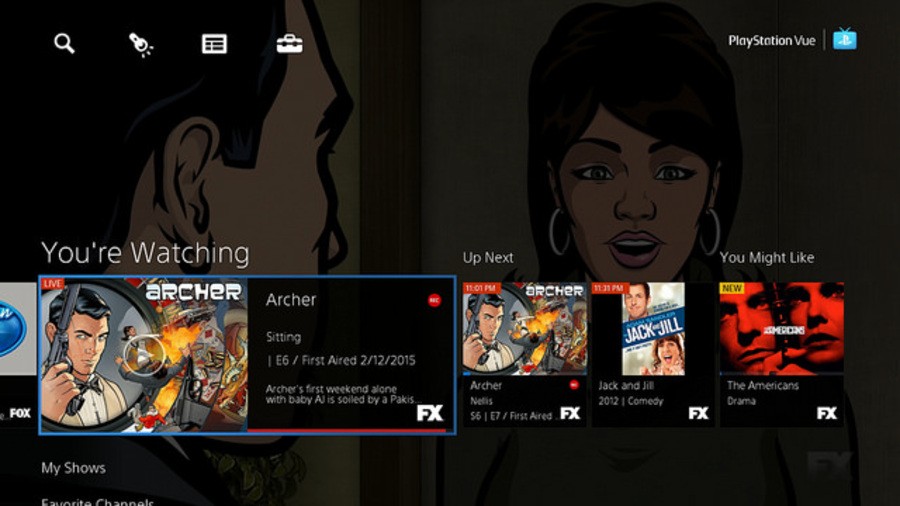 PlayStation Vue, the television streaming service for the PlayStation 4 and PlayStation 3, is now broadcasting to consoles in New York, Philadelphia, and Chicago. The basic package will set you back $49.99 per month, and will provide you with access to up to 60 channels, including CBS, Fox, NBC, Comedy Central, and many more. You'll be able to pay $59.99 for the 'Core' step-up, which will unlock the Golf Channel and other regional sports stations, while the 'Elite' option for $69.99 will come with around 26 extra channels on top.
The big downside is that the platform holder's missing ABC, ESPN, and the Disney channel, which is going to be a problem until it can get them onboard. Fortunately, it sounds like it's nailed the interface, which is packed with programme sorting, favouriting, and filtering options. Remember, you'll be able to record shows to the cloud and watch them at any time, as well as pause live TV and much, much more. There are also tons of discovery options built into the service, too, so it'll find things relevant to your tastes.
The amount of features, frankly, is quite dizzying, so we're best off directing you to The Verge's excellent coverage for more. Before you leave us, though, we'd love to know what you think of the pricing, and whether this is enough to convince you to cut your cable cord. There's a seven day trial available if you're a resident in one of the above cities, with a full nationwide rollout due before the end of the year. Will you be tuning in to PlayStation Vue? Change the channel in the comments section below.
[source blog.us.playstation.com, via theverge.com]