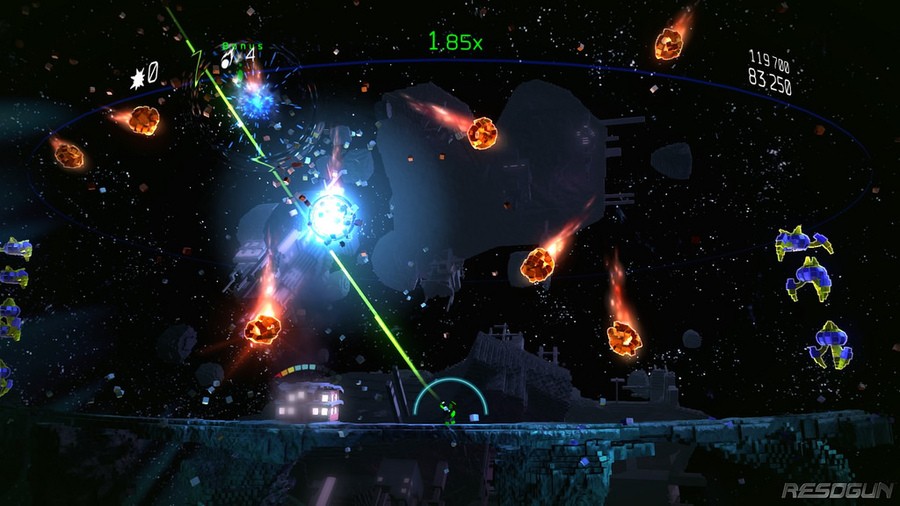 Resogun is still, in this editor's humble opinion, the best game on the PlayStation 4. That's not a slight against the next-gen system's software offering – it's a testament to just how good Housemarque's cylindrical shooter is. And fortunately, the Finnish developer is continuing to support the arcade affair with new content, starting with Resogun: Challengers, which is available to download for free now.
The update, which paves the way for full expansion Resogun: Defenders – more on that shortly – adds Challenge Points to the game, which essentially reward you for completing various pre-set actions. It's basically an XP-based unlock system, which should give you a reason to save the last humans one more time. Many of these will be mode specific, but there'll also be game-wide feats for you to complete, too.
If you can't stomach another round of bog-standard arcade mode, though, don't worry, because the title's next premium update is coming. Available from 17th February in North America and 18th February in Europe for £3.99/$4.99, the long overdue Resogun: Defenders will bring two new modes to the popular game: Protector and Commando. The former will see you "taking to the skies to defend one of the last human colonies remaining".
You'll have access to a host of new power-ups to do this, including Super Boost and Teleportation. Essentially, you'll be taking down enemies and escorting as many humans to safety as possible, all while avoiding new environmental hazards, such as volcanic meteors. These will be present in Commando, too, where you'll take control of the Last Human, and attempt to off approaching threats from the ground.
This option will be available in both co-operative and competitive guises, with the latter named Battle Mode. Here you'll need to dupe your foe in order to destroy their base before they return the favour. If all of that wasn't enough by the way, the title's latest patch will add a much needed Photo Mode to the affair, as well as a Human Gallery, allowing you to peruse all of the pixelated people that you've unlocked.
You'll get all of the content for free if you own the release's Season Pass, with the package's promised soundtrack still to come. And if you don't own the game just yet, it'll be available at a discounted fee in both Europe and North America for the next two weeks. Phew, that's a big update – but has it tempted you to return to the intergalactic outing? Tot up your multiplier in the comments section below.
[source blog.us.playstation.com, via blog.eu.playstation.com]