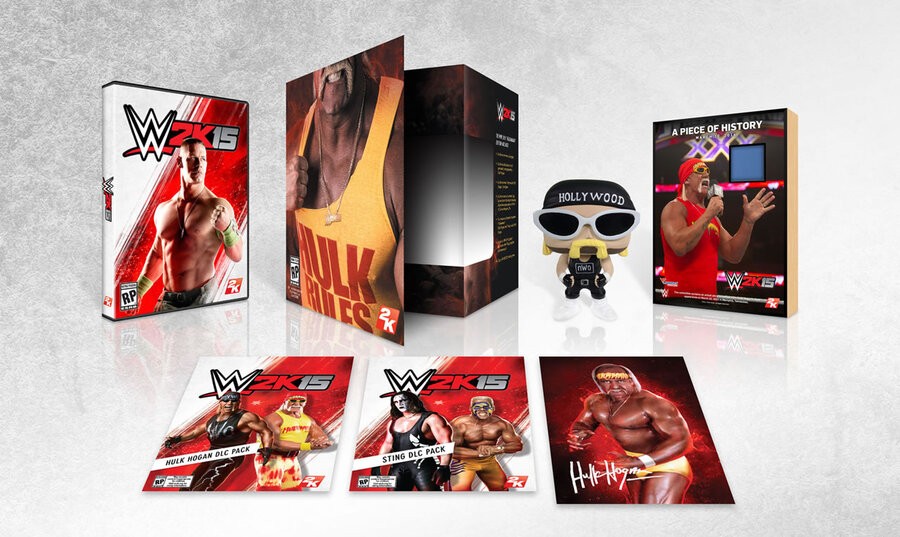 We see many video game collector's editions, peddling limited edition swag – only to end up in the bargain bin six months later. This won't be the case, however, with the super special PlayStation 4 'Hulkamania' edition of WWE 2K15 this October. Advertised as a real supply limited package, this set features collectibles relating to the WWE legend Hulk Hogan, including, bizarrely, a part of the mat that was used during his appearance on RAW in March.
As random as the contents may be, the set is a must have for any hardcore Hogan fan. It all comes wrapped in special packaging, which is perfect for those that want to hide away that John Cena game case. Also included is a limited edition signed art card, and a 'Hollywood' Hulk Hogan vinyl figure created by Funko. Of course, it wouldn't be a limited edition without DLC to top it all off, so included is special early access to Hulk Hogan and his 'Hollywood' persona, along with the pre-order character, Sting.
With the special edition available for the Xbox One as well, we can't say just how much mat there will be to go around. If you want to have a part of wrestling history, however, you better pre-order quick before a Royal Rumble breaks out. Are you going to splash your cash? Flex your pecs in the comments section below.
[source wwe.2k.com]