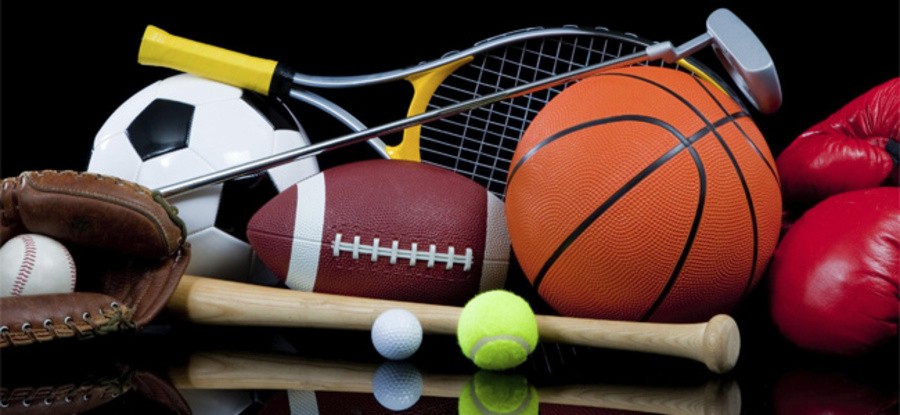 With both the World Cup and Wimbledon in full swing, conversation here at Push Square Towers has focused on old sporting favourites for a few days now. We're not referring to veterans such as Pele and Martina Navratilova, of course, but classic video game franchises that have prompted more than a few shiny brows over the years – despite the fact that they can be enjoyed from a stationary position on the couch. Alas, with the genre currently riddled with realistic simulations and little else, we reckon that it's time that a few old favourites took advantage of the PlayStation 4's simplistic hardware architecture and re-applied their sweat bands. Not all of these selections have appeared on a Sony system in the past, but we don't reckon that that should stop them from getting back into shape on the Japanese giant's next-gen machine.
California Games
The quintessential feel-good minigame compilation, California Games on the Commodore 64 – and subsequently every other system under the sun – was the interactive equivalent of honeycomb ice cream. Sporting several highly competitive pastimes – including surfing, roller skating, and, this editor's personal favourite, hacky sack – we suspect that this would resemble something like Sports Champions when viewed through a more modern lens. However, despite the advancement of visuals and gameplay mechanics, we still don't reckon that a sports game has come close to capturing the sunny outlook and sheer addictiveness of Epyx's 8-bit classic, so would love to see this vibrant affair bring out its BMX for one last ride.
Hot Shots Tennis
It was a tossup between Anna Kournikova's Smash Court Tennis and Hot Shots Tennis in the racquet category, but while the latter hasn't been dormant for quite as long as many of the other sweaty series on this list, we don't reckon that there'd be an enormous amount of pent-up demand for Sabine Lisicki's Smash Court Tennis. Japanese developer Clap Hanz, on the other hand, has proven itself time and time again as being a safe pair of hands for the arcade sports genre, with 2010's agonisingly underrated Hot Shots Tennis: Get a Grip remaining one of the best pick-up-and-play PlayStation Portable titles around. Fusing classic adventuring mechanics with on-court battles, we reckon that this would be a surprising success on Sony's next-gen system.
NFL 2K
The series that supposedly panicked veteran publisher EA Sports into acquiring exclusive access to the NFL license, ESPN NFL 2K5 remains one of the most extraordinary tales in gaming history. Deployed with a price tag of just $19.95, the title was not only cheaper than its closest competitor, but also widely regarded by critics as the greatest American Football game ever made. Starring celebrity matches and tons of presentational bells and whistles, the title went on to sell a whopping 4.26 million copies worldwide. Considering the resurgence of the 2K Sports brand due to the NBA 2K property, many have called for a comeback of the NFL 2K series – a challenge which EA, perhaps foolishly, has accepted.
RedCard
Soccer may not be the most popular sport in North America, but we get the sneaking suspicion that the sometimes slow pace and playacting may be the reason for that. Defunct publisher Midway tried to do something about that back in 2002, releasing the foul focused RedCard on the PlayStation 2. While a poor replacement for Pro Evolution Soccer, FIFA, and even Sony's own This Is Football for the most part, this game did away with the entire principle of FIFA Fair Play, allowing you to kick, shove, and bully your opponents off the pitch. A next-gen version would probably include some kind of biting mechanic, allowing you to sink your gnashers into opponents just like Uruguay striker Luis 'Chewy' Suarez.
Speedball
Heavily inspired by the 1975 cult cinematic smash Rollerball, the Bitmap Brothers' legendary Speedball series combined basketball, football, ice hockey, and basically every other sport under the sun – and then set it in the future. Taking place in Tron-esque arenas, your objective was to use loop-de-loops, tunnels, and more in order to put the ball into the back of your opponent's net. The title's early nineties sequel, Speedball 2: Brutal Deluxe, added a dark twist to the action, rewarding you with bonus points for wiping out your foes and forcing them to leave the field of play. Who could possibly say no to such sly sportsmanship?
Tony Hawk's Pro Skater
Tony Hawk's Pro Skater isn't necessarily a series that's dormant – it's just resting in a gutter somewhere after being battered over the head by a particularly expensive pair of limited edition Converse plimsolls. The Call of Duty of its day, Neversoft's first three skate-'em-up titles were massive commercial hits, even ushering a skateboarding revival on supermarket car parks around the world. Boasting busy sandbox settings, tons of side-objectives, and some of the silliest physics ever to grace a sporting series, this score-based affair remains a franchise in desperate need of resurrection. Robomodo's attempted 2012 high definition reboot fell seriously short of the mark, but it still feels like there's life in this property if someone could just get it back on the rails.
Windjammers
Arguably the most straightforward game on this list, but also one of the best, Windjammers was a Neo Geo title that encapsulated everything that's great about arcade sports affairs. Essentially an incredibly pretty adaptation of Pong, the title saw you select a fictional sports star, and attempt to toss a Frisbee into the net behind your opponent. Boasting special moves and some really quite impressive sprite work, we reckon that a high-definition upgrade with top-notch netcode would be a popular attraction even today. Sure, it may not necessarily stretch the capabilities of Sony's next-gen hardware, but technological grunt doesn't always equate to entertainment.
---
Would you be game if any of these sporting franchises made a comeback? Are there any series that we've missed in our list? Touchdown in the comments section below.
Which of the following sports series would you most like to make a comeback? (26 votes)
Tony Hawk's Pro Skater
38%
Please login to vote in this poll.