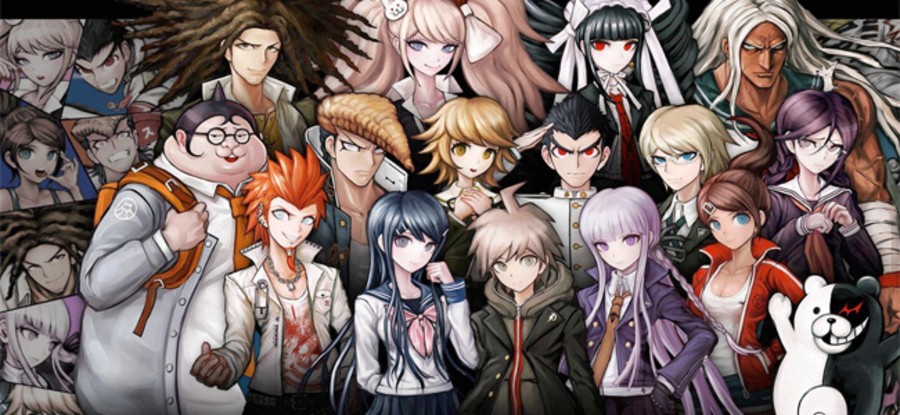 There may not have been too many releases to get our sweaty hands on last month, but February still proved to provide a much stronger lineup than January's rather weak offering, as a number of games walked away with some high scores. Of course, the presence of such highly praised titles meant that our staff vote was always going to turn into a bloodbath, but despite the copious amounts of violence that occurred, we eventually reached a verdict. Little did we know, however, that only despair would follow.
Indeed, it may be a game that's all about the negative emotions of humanity, but Danganronpa: Trigger Happy Havoc managed to ensnare just enough of our writers to ensure its place as February's Game of the Month. "Featuring a colourful collection of memorable characters, some sweat-inducing gameplay, and a narrative that has more twists than a Hollyoaks omnibus, Spike Chunsoft's bloody tale of high school life will keep you engrossed from start to finish," wrote this enamoured author after spending hours upon hours locked inside Hope's Peak Academy. "We find the defendant guilty of murdering our free time," our review concluded, in which we awarded the addictive tale a score of 8/10.
Hot on the murder mystery's scent like a psychotic mutant, however, was PlayStation 4 horror-fest Outlast, which was beaten in our poll by just two votes. Shuffling back into the darkness clutching a great score of 8/10, reviewer Graham Banas wrote that although the title isn't perfect, it's still "arguably one of the best survival horror games in recent memory". He went on to say that "if you can cope with jump scares and graphic content, then this is an exhilarating experience from bloody beginning to chilling conclusion". It's probably a good job that we picked out a particularly brave writer for this one, then.
Following up with yet more 8s were dazzling arcade shooter TxK and fast-paced JRPG Ys: Memories of Celceta. Regarding the former, Joey Thurmond concluded in our review that the release "expertly fuses classic arcade staples with modern game design to provide a sleek gaming rush right in the palms of your hands". Meanwhile, Greg Giddens admitted that although the newest entry in Falcom's beloved series "doesn't bring anything new to the action RPG table", the game's "strong use of its combat" makes it especially difficult to put down.
Despite all of these high-scoring releases, however, one title stood above the rest. FuturLab's digit-busting tap-'em-up Surge Deluxe had reviewer Mat Growcott so addicted that he slapped a glorious 9/10 onto the end of our review. "Surge Deluxe is a shockingly enjoyable experience built upon an engaging leaderboard system that constantly encourages you to up your game," he stated, before going on to write that "the only downside is that the title's devilishly moreish, meaning that your addiction may land you in a hospital bed or strange social therapy session". Get well soon, Mat.
Funnily enough, many of the more popular titles to launch last month didn't make it into our nominee shortlist, despite not doing too badly in their respective reviews. Divisive sequel Castlevania: Lords of Shadow 2 was bloodied with a solid 7/10, as was handheld Oni slaughtering simulator Toukiden: The Age of Demons. Even the quick feet of Strider Hiryu couldn't escape the common number, as this assistant editor dared to say that the long awaited return of Strider "falls just short of maintaining the momentum that's expected of it". Still, if last month taught us anything, it's that we'd much rather be annihilating giant ants with futuristic weaponry than playing one-man-army with Sylvester Stallone's ugly digitalised mug.
As always, take the time to peruse the handy list of all of February's reviews that we've provided below, before voting for your favourite game in our poll. And, of course, remember to tell us all about your Danganronpa crush in the comments section.
Surge Deluxe - 9/10
Danganronpa: Trigger Happy Havoc - 8/10
Outlast - 8/10
TxK - 8/10
The Last of Us: Left Behind (DLC) - 9/10
Ys: Memories of Celceta - 8/10
The Wolf Among Us: Episode 2 - Smoke and Mirrors - 8/10
Dustforce - 6/10
Toukiden: The Age of Demons - 7/10
Master Reboot - 6/10
Earth Defense Force 2025 - 6/10
Strider - 7/10
Rambo: The Video Game - 2/10
Castlevania: Lords of Shadow 2 - 7/10
Pac-Man Museum - 7/10
---
What was your favourite game in February? (18 votes)
Danganronpa: Trigger Happy Havoc

72

%
Outlast

6

%
Surge Deluxe

0%

TXK

11

%
Ys: Memories of Celceta

6

%
Other

6

%
Please login to vote in this poll.