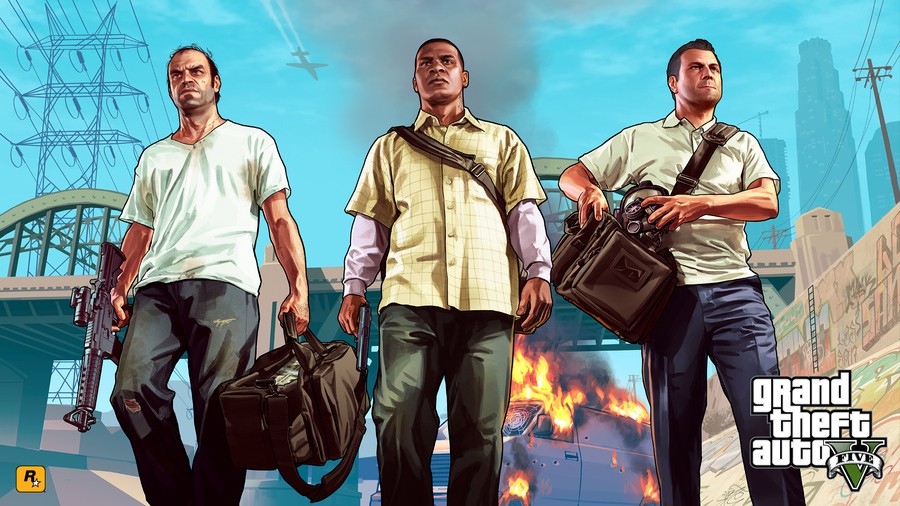 In a shock more sizeable than the kind that comes from a souped-up defibrillator, Chart-Track has revealed that Rockstar Games' controversial open world epic Grand Theft Auto V was the UK's best selling entertainment product of 2013. Moving an impressive 3.67 million units, the sequel beat out the Blu-ray and DVD releases of James Bond smash Skyfall, which sold just under three million units over the course of the past twelve months.
Elsewhere, the disappointing Call of Duty: Ghosts was unable to live up to its predecessors' past successes, selling 1.91 million units in total. That's a significant decrease compared to last year's Call of Duty: Black Ops 2, which had hit 2.7 million units by the end of 2012, and was comfortably the best selling video game of that particular period. This year it finished fifth, behind FIFA 14, The Hobbit, and the two abovementioned giants.
Only two other video games made the chart, which was mostly dominated by movies and music compilations. The broken Battlefield 4 fired into 15th, while Assassin's Creed IV: Black Flag sailed into 20th position after moving 776,888 units. We've included the full bevy of British favourites below. Which entertainment products kept your wallet light in 2013? Flash your non-existent cash in the comments section.
Britain's Best Selling Entertainment Products of 2013
1. Grand Theft Auto V (Video Game) – Rockstar – 3,670,234
2. Skyfall (Video) – 20th Century Fox – 2,959,969
3. FIFA 14 (Video Game) – EA – 2,656,763
4. The Hobbit - An Unexpected Journey (Video) – Warner Home Video – 2,065,152
5. Call Of Duty: Ghosts (Video Game) – Activision Blizzard – 1,991,994
6. Les Miserables (Video) – Universal Pictures – 1,497,737
7. Despicable Me 2 (Video) – Universal Pictures – 1,449,311
8. The Twilight Saga - Breaking Dawn Part 2 (Video) – Entertainment One – 1,190,139
9. Now That's What I Call Music 86 (Music) – Sony Music/Universal Music – 1,159,595
10. Now That's What I Call Music 85 (Music) – Sony Music/Universal Music – 968,238
11. Monsters University (Video) – Walt Disney Studios – 968,129
12. Star Trek - Into Darkness (Video) – Paramount – 909,331
13. Django Unchained (Video) – Sony Pictures – 885,311
14. Life Of Pi (Video) – 20th Century Fox – 858,834
15. Battlefield 4 (Video Game) – Electronic Arts – 838,869
16. Man Of Steel (Video) – Warner Home Video – 828,027
17. Despicable Me (Video) – Universal Pictures – 821,070
18. Iron Man 3 (Video) – Walt Disney Studios – 816,922
19. Taken 2 (Video) – 20th Century Fox – 804,396
20. Assassin's Creed IV: Black Flag (Video Game) – Ubisoft – 776,888
[source mcvuk.com]