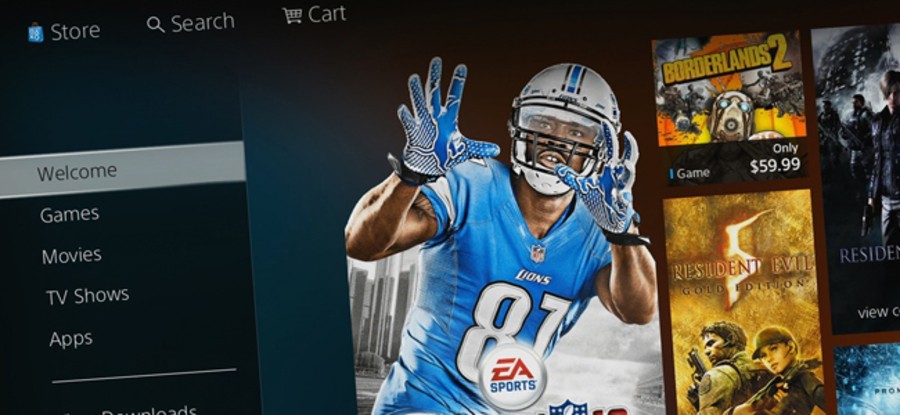 Sales can actually be a pretty cunning strategy. Supermarkets are particularly good at them, lowering the cost of sought after goods in order to obtain publicity and drive foot traffic through their stores. It only takes one heavily discounted item to coerce thrifty shoppers into a cash splashing frenzy, and that allows retailers to make back the savings elsewhere. With this loss leading strategy so common in the real-world, though, why are platform holders such as Sony so cautious to copy the tactic on their digital storefronts?
For the past couple of weeks, the Japanese giant has been running a bi-daily sale in Europe counting down to Christmas. There have been some so-so savings thus far – Saints Row IV, Spelunky, and Rayman Legends spring to mind – but despite the offers rotating every 48 hours, none of them have really convinced us to punch the air. In fact, so tepid have the deals been that we'd hazard that the average PlayStation 3 or Vita owner hasn't even been paying attention to the money-saving advent calendar at all. But it really shouldn't be that way in the online space.
Valve's digital platform Steam is in a slightly different position to the PlayStation Network. The popular PC application doesn't have to deal with real-world retailers, so is able to price its goods more competitively. This has resulted in some outrageous sales over the years, with entire brand back catalogues moving for pennies assuming that you take advantage of a limited time window. It's these kinds of offers that have driven the popularity of the service, and made it the standard storefront for computer users. And it's something that Sony should be paying close attention to.
As already alluded, as long as physical stores remain imperative to the popularity of the PlayStation brand, the platform holder's not going to get away with undercutting real-world retailers regularly – but there are other options at its disposal. For starters, the PS3 is now an ageing system, and that means that it has an enormous back catalogue. Former favourites such as Heavy Rain and Resistance 3 have now almost surely sold through their final Blu-ray run, so why not sell the digital versions off for £0.79/$0.99 in a 24 hour event?
The advantages of holding fire sales would be almost universally positive for both consumers and the platform holder. With door busting price points, more casual consumers would have a reason to visit the PlayStation Store, and that would give Sony an invaluable opportunity to market newer releases. Furthermore, the games may be available for cheap, but in many ways this would represent pure profit, as those that take advantage of the deals may never have purchased the titles at full price. Moreover, such a strategy could prove a valuable means of encouraging players to test drive new franchises – and this may have long-term advantages when a sequel rolls around.
We've already seen it employ this strategy with PlayStation Plus. The company regularly rotates blockbuster titles that are about to obtain a sequel into the Instant Game Collection, and this doubles as a promotional opportunity for the publishers involved. The electronics manufacturer may argue that its subscription service also offers some noteworthy savings on top of its usual roster of discounts – but it's still not enough. When was the last time that you saw a PSN saving that you had to tell your friends about? We follow the brand daily, and we're drawing blanks. That's not really good enough.
Considering the amount of goodwill that the firm's garnered from its abovementioned membership plan, it's hard to believe that its PSN sales continue to be so lacklustre in comparison to the competition. There's an enormous library of dormant digital content just waiting to be reduced, but Sony's disregard for decent discounts is preventing it from finding a new audience. Still, if there's one advantage to non-physical retail, it's that new strategies can be implemented very quickly. Let's hope that it comes to its senses soon, and starts offering some real deals for the masses of software in its online inventory.
---
Do you agree that Sony could learn a thing or two from Steam's incredible sales? Would you be more tempted to try new things if the price was right? How good do you think that the current PlayStation Store deals are? Count your coins in the comments section below.
Do you think Sony should introduce Steam-style fire sales on the PlayStation Store? (56 votes)
Yes, I'd happily try out older games that passed me by if they were cheap
91%
Hmm, I'm not really sure
0%
No, the current discounts combined with PlayStation Plus are good enough
9%
Please login to vote in this poll.