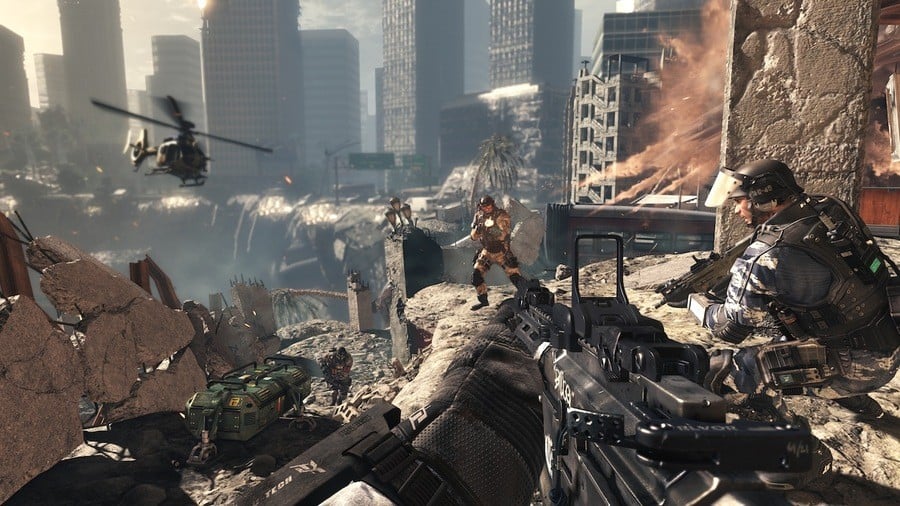 As the latest entry in the seemingly unstoppable Call of Duty franchise exploded onto store shelves today, so too did our very first PlayStation 4 review. But with the title set to deploy on both current generation and next generation systems, we figured that we should summarise some of the key differences between the two releases.
Worryingly, the truthful answer is that there's very little to compare and contrast: Ghosts on the PlayStation 3 is exactly the same game as it is on Sony's futuristic format. You'll find the same modes, maps, missions, and all of the gun camo that you could possibly desire in precisely the same quantity on both consoles. The major differences, then, revolve around visuals.
Activision's first-person phenomenon has always looked decent on the PS3, but it's constantly been letdown by blurry, low-resolution images. If you've ever had the opportunity to play any of the titles at optimum settings on PC, then you'll have quickly noticed the differences, principally in resolution. Textures look sharper, in-game text is legible, and lighting quality is massively improved. Fortunately, while the PS4 version of Ghosts doesn't reach the dizzying heights of Killzone: Shadow Fall, it does at least manage to emulate these previously PC-exclusive qualities.
Another graphical hurdle that the PS3 has always struggled with is in multiplayer. The priority for Call of Duty games in recent years has been to ensure that everything runs at a smooth 60 frames-per-second, even if that means having to cut corners to ensure that it's possible. These corners are almost singularly graphical and things haven't changed this year. We jumped into a few multiplayer games on the current generation console and instantly noticed a huge drop in the visuals when compared to the campaign, even experiencing some rather jarring pop-in that saw entire vehicles appear from thin air.
Thankfully, these issues are exclusive to multiplayer, with the campaign mode running cleanly for the duration. Conversely, the PS4's campaign and multiplayer visuals are practically identical, resulting in a huge gulf in quality between the online components of the two platforms.
However, besides a couple of minor tweaks like slightly improved loading times, the visuals are the only real noticeable difference between the two versions. At the end of the day, if you're buying the game on the PS3, then you shouldn't feel like you're missing out, as you're still getting the exact same package that the console's bigger brother is receiving. To help you visualise the graphical differences, we've put together a comparison video showcasing both PS3 and PS4 footage, which you can watch below.
---
Which version of Call of Duty: Ghosts are you buying? Have you grown tired of Activision's first-person franchise? Shoot us down in the comments section below.