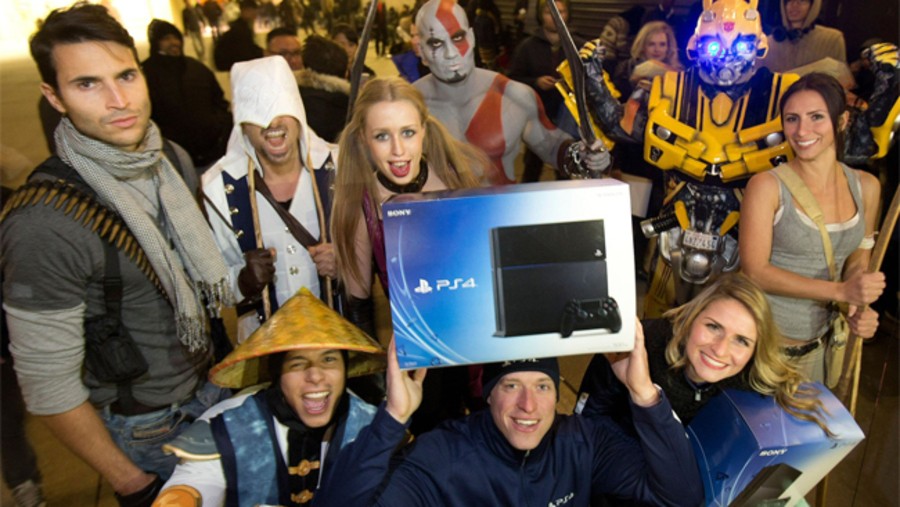 Sony has claimed that the PlayStation 4 enjoyed the biggest Canadian launch in gaming history – and given last week's incredible sell-through tally, we don't think that it's exaggerating at all. Speaking with our friends over at Games Industry International, Sony Computer Entertainment Canada's vice-president and general manager Steve Turvey revealed that the company put more units into the retail channel than any prior platform – but that demand still hasn't been fully satisfied.
"The launch was a huge success by any standard of measurement," the executive beamed. "It was by far the largest launch in gaming history in Canada, and we were really thrilled by the execution, but mostly the response by PlayStation fans and consumers." Over the weekend, the platform holder confirmed that it had sold a whopping one million consoles to consumers across the entirety of North America in just 24 hours. That's absolutely bonkers, by the way.
The challenge for the company now comes down to replenishing that stock, and Turvey believes that the firm is well prepared to keep up with the demand. "We have a nice healthy supply of inventory that we'll continue to flow into the marketplace, and we hope that demand continues," he said. According to Games Industry International, new stock will continue to arrive on a weekly basis from now on.
The executive wouldn't break out attach rates, but said that the firm was "excited" about the performance of Guerrilla Games' first-person shooter Killzone: Shadow Fall, and that it expects Knack to continue strongly through the gift-giving season. The suit added that DualShock 4 controllers are also performing well, but it's the enhanced PlayStation Camera that's surprised him on a personal level.
"I was not dismissive of the camera, but it wasn't something I particularly thought I really needed," Turvey explained. "But now that I've had the camera hooked up, I love it and I think that it's pretty integral to the experience. And I think more and more consumers will figure that out for themselves." At the moment, the only titles that support the camera are The Playroom and Just Dance 2014, but it's an important accessory if you intend to spend time streaming gameplay online.
Of course, while the firm's boasting about big numbers right now, Turvey is keen to stress that this is just the start of a long race. "It's great when something is received well by your customer base on day one," he cautioned. "But as we've been through other iterations of PlayStation, the lifecycle is a long one. We've prided ourselves on future proofing many of our consoles and building future technology into them so that it is in your living room for seven to ten years from now. So while launch is important, it's not everything." Those are some wise words in our opinion.
[source gamesindustry.biz]