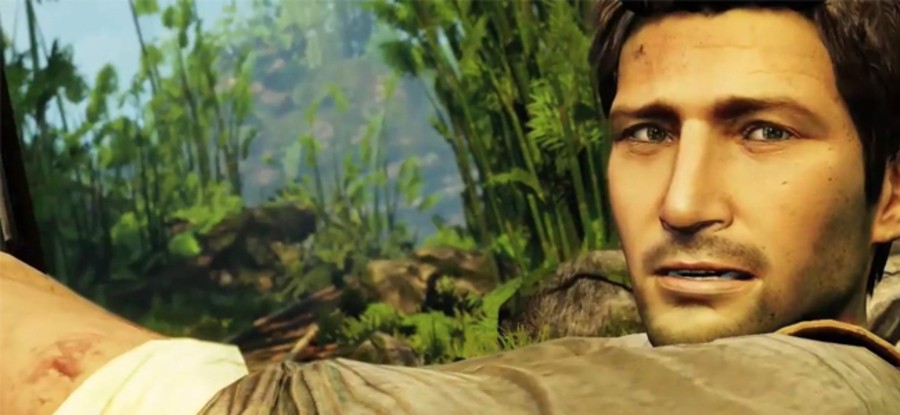 The golden age of pirates may not be decaying in Davy Jones' locker after all, as it seems almost certain that Naughty Dog's newly announced Uncharted title for the PlayStation 4 will be sailing the seven seas in search of spoils – and, judging by the tone of the teaser trailer's irritable narrator, trouble. The ferocious oceans of the 17th and 18th centuries have been attributed to the Californian developer for a while now, as a leaked image from a The Last of Us documentary showed a picture of a couple of character models sporting age appropriate apparel. These outfits are yet to appear as add-on packs in existing games, so it stands to reason that they're part of the developer's next release – which we now know is in production for Sony's next generation console.
We're expecting a narrative that hops around different timelines Assassin's Creed style
Of course, this is where it gets really interesting. Co-president Evan Wells mentioned during last night's Spike TV broadcast that there are plenty of hints hidden in the trailer regarding the nature of its next game – but some of them are more obvious than others. The most instantly recognisable thing is the aged nature of the map that the footage pans over, alluding at some form of antique documentation. The scrawl is rich with piratical icons, from fairly commonplace anchors right through to a Jolly Roger-esque insignia right at the end. Fascinatingly, this wears the hallmark 'Hodie Mecum Eris in Paradiso', which translates from Latin to 'Today You Will Be with Me in Paradise'. But what does it all mean?
Well, this is a direct quote from the Bible, and supposedly reflects several of Jesus Christ's final words. Interestingly, though, it's accompanied by a hand scribbled message, reading 'For God and Liberty'. This was the motto of the Libertatia, a late 17th century colony occupied by dozens of famous pirates such as William Kidd. The precise location of the (potentially fictional) utopia is unknown, but it's said to encompass islands such as Île Sainte-Marie, which is located just off the East Coast of Madagascar. The trailer shows an 'X' over the abovementioned land mass, suggesting that there may be treasure of some kind hidden within the area.
Fascinatingly, a pirate named Henry Every (or Avery depending on your academic documentation of choice) operated in this area between 1694 and 1696, where he's believed to have settled with a fortune scored from a 25-ship convoy of Grand Mughal vessels. Records suggest that the haul made the notorious sailor the richest pirate on the planet, finances which he supposedly moored right around the area marked on the map in Naughty Dog's trailer – no doubt attracting the attention of treasure hunters such as Nathan Drake. Of course, you can't make a fortune without ruffling the feathers of your comrades, and Every was supposedly a treacherous soul. This is once again indicated in the trailer when a hand written note points out that the seafarer "betrayed us all".
Exactly how it all ties into the voice over is unclear, though. The developer has confirmed that American actor Todd Stashwick will play a character in the game, but his accent suggests that he's not voicing a pirate. Interestingly, there had been some speculation that Francis Drake – the supposed ancestor of our hero – would be the main protagonist in the title, but while he did sail around Madagascar in the late 16th century, and as such is certain to factor in some way, the map depicted in the trailer is from much later. This can be evidenced by the reference to Fort Dauphin, which was not named as such until 1643 – some fifty years after the privateer's passing.
Given the clues – and previously mentioned leaked images – we're expecting a narrative that hops around different timelines Assassin's Creed style. There's a possibility that we'll see the Île Sainte-Marie from numerous perspectives, perhaps spanning Francis Drake, Henry Every, and the modern day hero. Indeed, given the accent of the voice over and iconic nature of the cast, it seems unlikely that Naughty Dog will be forcing Nate, Sully, and Elena to walk the plank any time soon, and so we expect this story to boast a much more ambitious unison of time periods than previous entries. It's something that the developer's dabbled with before, of course, with Uncharted 3: Drake's Deception depicting the earlier adventures of the sharp-tongued star in his infancy.
For now, this is all we really have to go on. The award-winning studio has said that we won't be seeing much of Uncharted PS4 for some time, though we have a sneaking suspicion that it'll surface during next month's VGAs – or VGXs as they now appear to be known. Do you think that you've found the secret to Drake's latest daring escapade? Do you agree with our theories, or do you think that we're sailing in the wrong direction? Set a course for the comments section below.
[ With thanks to Ginkgo ]
---
Are you excited for the new Uncharted game on PS4? (53 votes)
Yes, I absolutely can't wait to see more
83%
Hmm, I'm still not really sure
9%
No, I wanted a new intellectual property
8%
Please login to vote in this poll.
[source gamesradar.com, via playstationlifestyle.net, thesixthaxis.com]