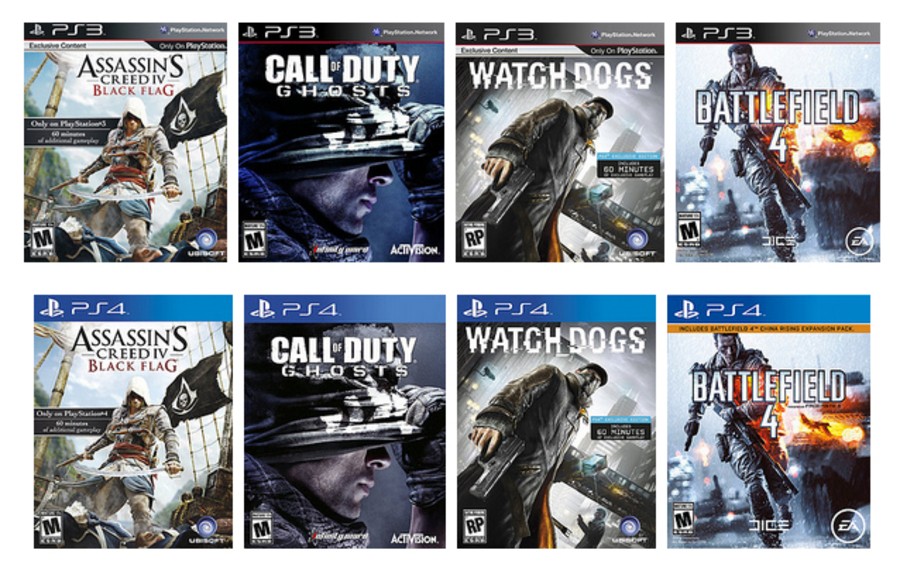 Assuming that you have about as much patience as a Venus flytrap, you'll be able to buy some of this year's biggest PlayStation 3 games safe in the knowledge that it will only cost you $9.99/£9.99 to upgrade to the PlayStation 4 version. However, as part of a detailed explanation on the PlayStation Blog, Sony clarified that you'll need to hang on to your original Blu-ray discs in order to take advantage of the offer, as the cheap-and-cheerful next generation downloads won't work without them.
In truth, the promotional pathway is a little convoluted, so you may want to give your eyeballs a good rub before you proceed with this paragraph. If you purchase a retail version of Assassin's Creed IV: Black Flag, Call of Duty: Ghosts, Watch Dogs, or Battlefield 4 on the PS3, you'll find a code in the box which can be redeemed on the PlayStation Store. This will notify the PS4 – when you receive it – that you've already purchased the game, and will allow you to download it for a discounted price on the next generation system. From there, you'll need to insert your original PS3 disc into the PS4 in order to run the game on the new console.
If you purchase a digital version, then you'll be able to skip most of these steps, and the title will simply appear discounted on the PS4 store. We assume that the complicated retail procedure is designed to stop the used market from being flooded with current generation games once everyone's unlocked their discounted next generation upgrade. It's not an ideal system, but it seems fair from where we're sitting. It's especially interesting that the new console will be able to read current generation discs – we wonder if that will have any advantages when Gaikai eventually rolls out.
For those of you that are staring at this article with a puzzled expression, you may want to turn your attention to the PlayStation Blog for a more detailed account of what to do. As for the rest of you, feel free to let us know whether you intend to take advantage of this offer in the comments section below.
[source blog.eu.playstation.com, via blog.us.playstation.com]