What are all The Duke's Kitchen upgrades in Resident Evil Village? After progressing the main story to a certain point, Resident Evil Village will allow you to catch Fish, Meat, and Poultry and hand them over to the Duke in exchange for permanent upgrades for protagonist Ethan Winters. This part of the game is unmissable, so you don't need to worry if you haven't unlocked the ability just yet. In this Resident Evil Village guide, we're going to reveal all The Duke's Kitchen upgrades. If you need help finding the ingredients for these recipes, please click through to:
Resident Evil Village: All The Duke's Kitchen Upgrades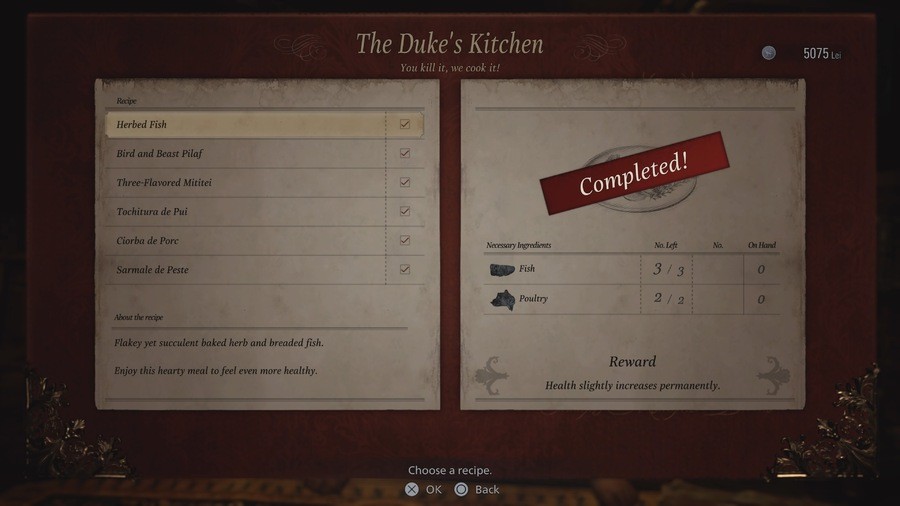 Recipe
Ingredients Needed
Reward

Herbed Fish
Fish x3, Poultry x2
Health slightly increases permanently.
Bird and Beast Pillaf
Poultry x4, Meat x1
Damage taken when guarding decreases permanently.
Three-Flavored Mititei
Fish x4, Poultry x2, Meat x3
Health increases permanently.
Tochitura de Pui
Poultry x4, Meat x3, Juicy Game x1
Health greatly increases permanently.
Ciorba de Porc
Fish x1, Meat x5, Quality Meat x1
Damage taken when guarding greatly decreases permanently.
Sarmale de Peste
Fish x6, Finest Fish x1
Movement speed increases permanently.
---
What was your favourite dish? Check out our Resident Evil Village guide for a lot more help and information.