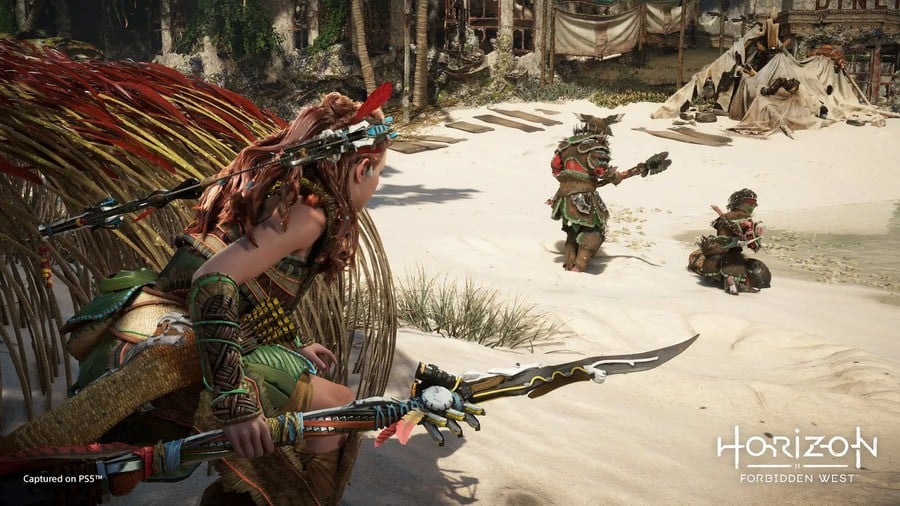 Guerrilla Games got a lot of things right with Horizon Zero Dawn, its first attempt at an open world action RPG after years of making shooters. One of its best aspects is its kinetic, technical combat against giant robot creatures. Fighting the metallic beasts is fun and challenging, but the same couldn't really be said when Aloy came up against human baddies. In sequel Horizon Forbidden West, the studio is aiming to make fighting humans more engaging.
As part of a wider PlayStation Blog post about combat design, Guerrilla's Bo de Vries touches on fighting enemy tribespeople, and how this part of the experience is being expanded upon in Aloy's second outing. Apparently, there will be an "increased number of human enemies", comprised of "new enemy classes with their own combat behaviour and functions".
Richard Oud, gameplay animation director, says that a goal of the team's was "to make human combat as deep and challenging as machine combat". Guerrilla has expanded Aloy's toolset and moves to give players more freedom in how to deal with all enemies, and it applies to humans as well. Combat designer Charles Perain gives the resonator blast as an example:
"The resonator blast rewards players for using spear combos: whenever Aloy attacks with melee, the resonator in her spear stacks up some energy," Perain says. "This energy can be blasted at the enemy and will stick to them for a short duration. Shooting it with an arrow before it dissipates will deal a huge amount of damage! This mechanic creates a powerful synergy between close combat and ranged combat, encouraging players to transition smoothly between both."
On the aforementioned Blog post, there are some great GIFs showing off some fluid combat sequences; the game is looking super slick. Are you excited to engage in Horizon Forbidden West's combat? Glide into the comments section below.
[source blog.playstation.com]