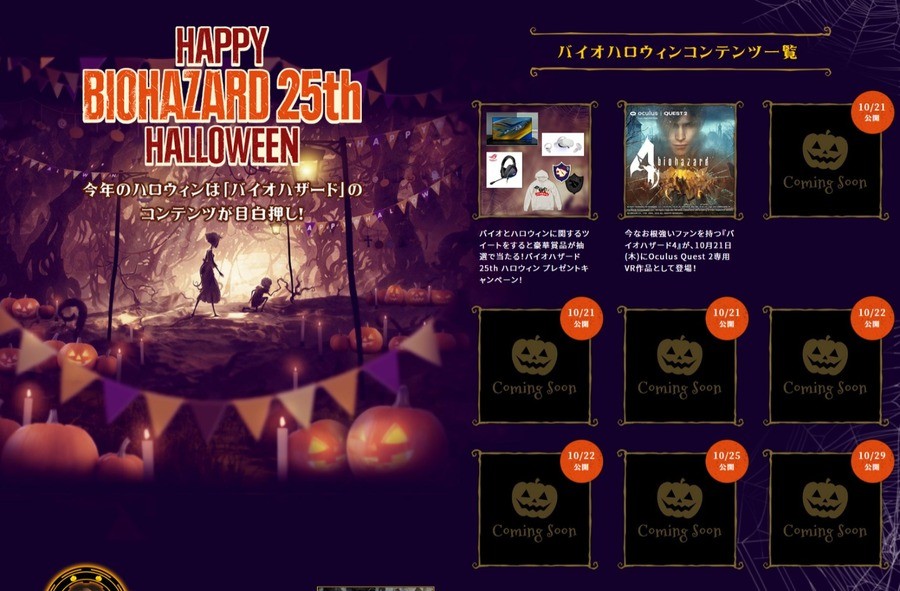 In the lead up to Halloween, Capcom will have seven different Resident Evil related announcements to share in order to celebrate the series' 25th anniversary. Five of them are scheduled for the 21st and 22nd October 2021, another on 25th October 2021, and then the final one on 29th October 2021. The website for the celebration has actually already filled in two previous reveals, which give us a decent idea of what to expect from the rest.
The first was a Twitter competition to win Resident Evil branded clothing and items, and the other was simply reminding fans of the upcoming Resident Evil 4 VR port for Oculus Quest 2. If the seven upcoming reveals follow in those same footsteps, then we would warn against getting yourself too excited. We have to remember the Resident Evil brand covers more than just games now; it's also a movie series, an anime, a book series, and clothing and merchandising line. As such, it's highly unlikely all seven of these announcements will relate to something you can play on a PlayStation 5 or PS4.
However, there are likely to be one or two exciting reveals. Possibilities include the unveiling of Resident Evil Village DLC, which is confirmed to be in the works. There have also been rumblings of PS5 updates to Resident Evil 2 and Resident Evil 3, while there's also the chance Capcom will bring back the original PS1 titles and port them to modern systems. The announcement of a brand new Resident Evil title, however, seems fairly unlikely for something like this.
If you're interested in further reading on the topic of Resident Evil's 25th anniversary, we asked developers what 25 years of Resident Evil means to them back in March. While we wait for the first reveal, what do you hope to see? Post your Resident Evil predictions in the comments below.
[source capcom.co.jp, via twitter.com]