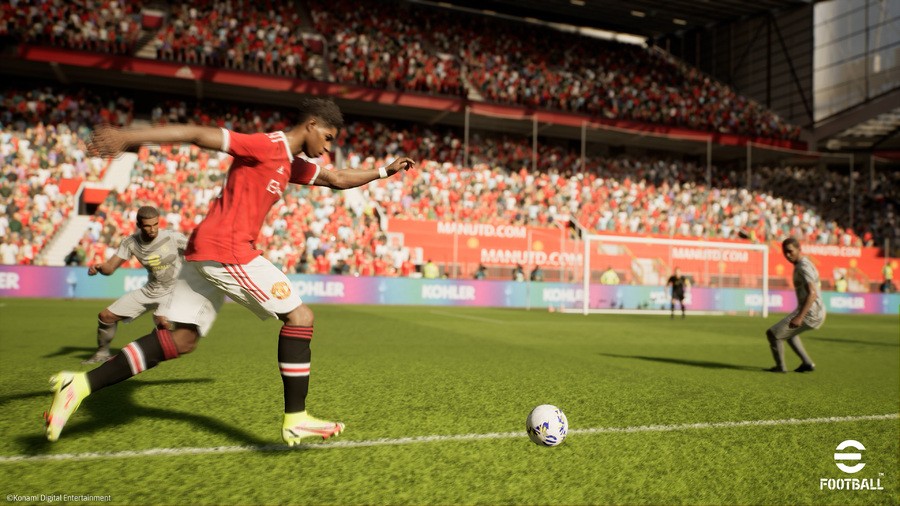 An overseas media event has resulted in the first PlayStation 5 footage of soccer sim eFootball being shared online, although Konami is quietly nixing the clips from sites like YouTube. You can watch a mirror through here. In the Japanese publisher's defence, these are off-screen recordings that don't necessarily paint the release in the best possible light, and also are presumably based on older builds.
Nevertheless, we see Arsenal taking on Manchester United – two of the nine teams available at launch. There are some nice cut-scenes showing the players getting ready, and we quite like the kit selection option, which focuses on a jersey hung up in the locker room. Gameplay looks slower than FIFA 22, but not necessarily in a bad way – we still prefer the ball physics in this franchise.
There's a lot of debate over the visuals already: many are pointing to the grass textures as being a serious downgrade, although it's hard to tell in these clips. The camera zooms in when you're on the wing, aiming to spotlight one-on-one take-on scenarios, but we suspect this feature will prove divisive. You can probably disable it in the settings.
The players controlling the game aren't of the highest standard, so it's hard to get too much out of this. The release does look better than the recent New Football Game technical test, fortunately, and the production values are generally quite high for a free-to-play title. The problem is that this will be compared to FIFA 22 and previous PES titles, and in terms of day one content, it's embarrassingly light.
[source youtube.com]