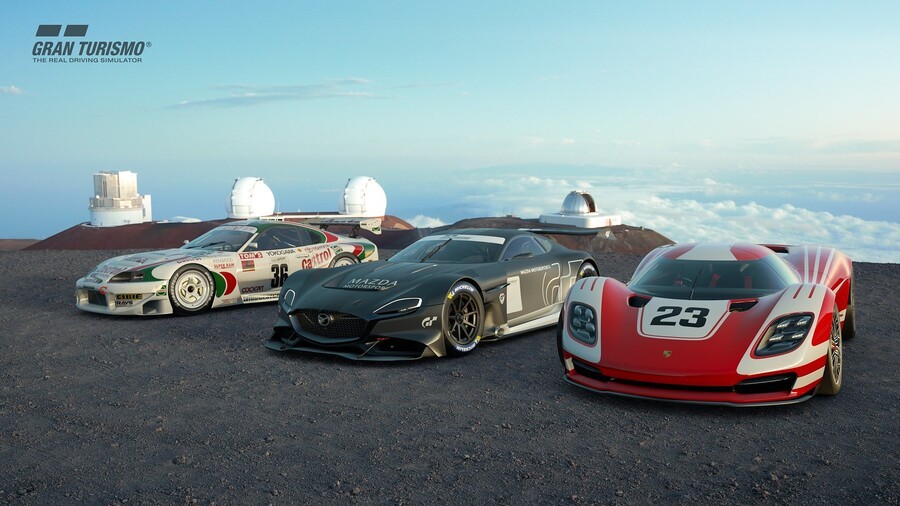 Ahead of its release for PlayStation 5 and PS4, Gran Turismo 7 is now available for pre-order on the PS Store. The base PS5 version costs £69.99/$69.99 and is packaged with various digital goodies if you decide to commit to the purchase ahead of time. Pre-order bonuses are 100,000 CR (in-game credit), the Toyota Castrol TOM'S Supra, Mazda RX-VISION GT3 Concept (Stealth), and the Porsche 917K Living Legend. The same items are then bundled with pre-orders of the PS4 version, which is priced at £59.99/$59.99. The lead image above is what the three cars look like.
If you'd like to spend a little bit more cash and grab the Gran Turismo 7 25th Anniversary Edition for £89.99/$89.99, you'll receive both the PS5 and PS4 versions. If you buy the base game, don't forget there'll be a $10 upgrade path, as Sony previously detailed. The 25th Anniversary Edition also contains 1,600,00 CR as well as:
Toyota GR Yaris with country specific Livery
30 Manufacturer / Partner Avatars
The Music of Gran Turismo Official Soundtrack
Toyota Castrol TOM'S Supra
Mazda RX-VISION GT3 Concept (Stealth)
Porsche 917K Living Legend
A physical version of the 25th Anniversary Edition will also be available; it includes the PS5 version on a disc and the PS4 version redeemable on the PS Store through the use of a voucher. It'll all come packaged in a steelbook case, also. You've got until the release date of 4th March 2022 to get your pre-orders in and grab these extra bonuses alongside the game. Will you be doing so? Let us know in the comments below.
[source blog.playstation.com]