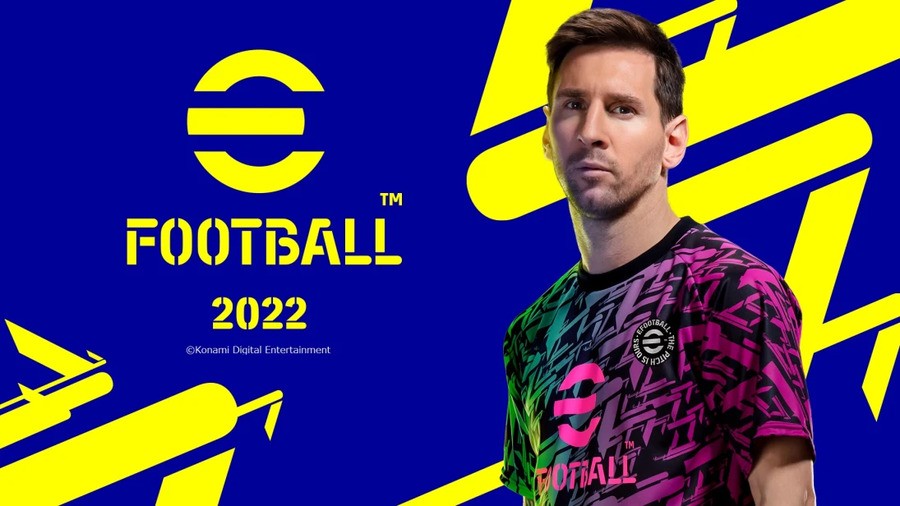 Konami's controversial football sim eFootball will launch for PlayStation 5 and PS4 on 30th September 2021 with a very short list of modes and ways to play the game, it's been confirmed. The publisher previously admitted the initial release is essentially a demo, but now that all of its contents have been shared alongside what's to come in the future, it's clear fans will be waiting a while before eFootball becomes anything like a genuine competitor to FIFA 22.
At launch, offline matches can be played against the AI or a friend. You will be able to pick from nine teams: Barcelona, Bayern Munich, Juventus, Manchester United, bottom of the Premier League side Arsenal, Corinthians, Flamengo, River Plate, and São Paulo. Those nine squads can play matches against one another in the following six stadiums: Camp Nou, Old Trafford, Allianz Stadium, Emirates Stadium, Allianz Arena, and the eFootball Stadium.
Head online and you'll have the chance to compete in weekly online events using the aforementioned sides and their pre-set squads, competing for rewards like GP. PS5 and PS4 users can play against each other, but online capabilities won't expand to include other consoles.
In autumn, eFootball's first big update will be deployed, adding many more modes to the free-to-play title. The features known as Creative Teams and leagues will allow you to sign players in order to start building a world-beating squad; this is essentially the game's version of FIFA Ultimate Team. "Choose a Base Team from one of over 600 licensed clubs/teams to use their authentic crest, kit and stadium, before building out your dream squad." You can be promoted to better league levels by earning points in matches, which then affects the rewards you receive.
Other modes included in the autumn update are:
Tour Event – play against AI opponents in a tour format, earning rewards by accumulating Event Points
Challenge Event – play against other players online, completing assigned objectives to earn rewards
Online Quick Match – play a casual online match against other players using over 600 licensed clubs/teams, including newly added cross-platform matchmaking (PC and consoles only)
Online Match Lobby – create an online match room and invite other players for a 1vs1 match
This major update also marks the inclusion of a premium currency, dubbed eFootball Coins. There are then two other currencies to go alongside them: GP and eFootball Points, which are both earned through playing the game.
Beyond the autumn update, further patches plan to add the following features:
Edit Mode — The ability to completely customise teams, kits, players and more will be added to supported devices for no cost – more details will be shared soon
PlayStation 5 haptic feedback and adaptive trigger support
Advanced ball trapping
Power Pass, Power Shot and other special kicks
Mobile controller support
Full cross-platform matchmaking (PC, console and mobile)
eFootball will launch on 30th September 2021, but it certainly looks like you'll be waiting a while before it becomes a game worth playing for more than 15 minutes or so. We can't imagine playing the basic kick-off mode over and over again will be particularly exciting. But what do you think of this approach? Share your thoughts in the comments below.