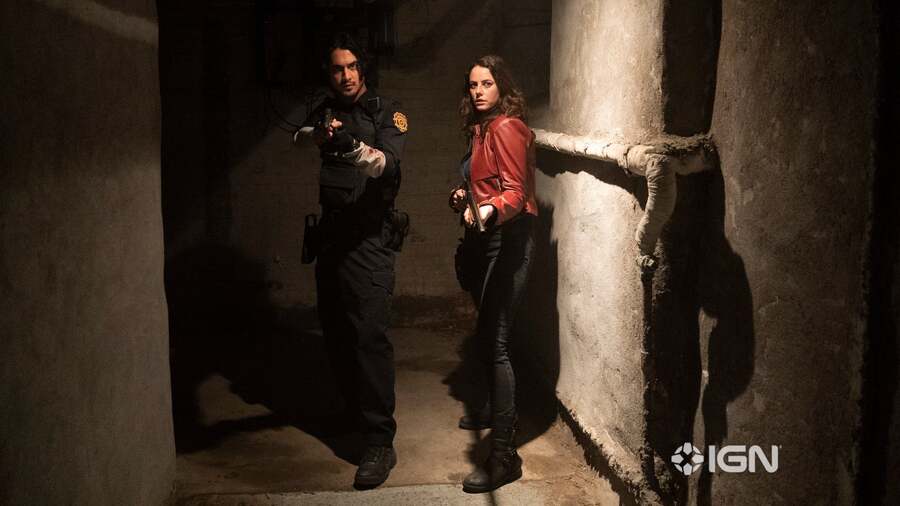 A new Resident Evil movie, Resident Evil: Welcome to Raccoon City, promises to tell the origin story of Capcom's famous horror franchise later this year. And here's your first look at stars Kaya Scodelario as Claire Redfield and Avan Jogia as Leon S Kennedy, courtesy of IGN. There are other images of Hannah John-Kamen's Jill Valentine and Robbie Amell's Chris Redfield through the link.
"This was all about returning to the games and creating a movie that was much more a horror movie than the sort of sci-fi action of the previous films," writer and director Johannes Roberts said. "I was hugely influenced in particular by the remake of the second game and I really wanted to capture the atmosphere-drenched tone that it had."
While that is an honourable ambition, these first images look more like cosplay than a big cinematic reboot to us. Of course, it would be unfair to judge the entire project on a trio of stills, and the talent this project has attracted is at least pretty good – Scodelario is clearly a decent actress, after all.
Roberts added: "It was hugely important with the whole casting process to find people who embodied the spirit and energy of the characters I wanted to portray. I think often in game adaptations one of the big flaws can be just casting someone to look visually like the characters – giving them the identical haircut and clothes but not really trying to give the audience the thing that a movie does better than a game – which is to create a three dimensional character that you can really connect with and believe in."
The proof will be in the pudding, then. According to Roberts, every character in the movie is from one of the Resident Evil games, and Capcom has had input into the project. It's due out on 24th November in US, with an international release in the UK planned from 3rd December. Presumably we won't have to wait too much longer for a first trailer.
[source ign.com]