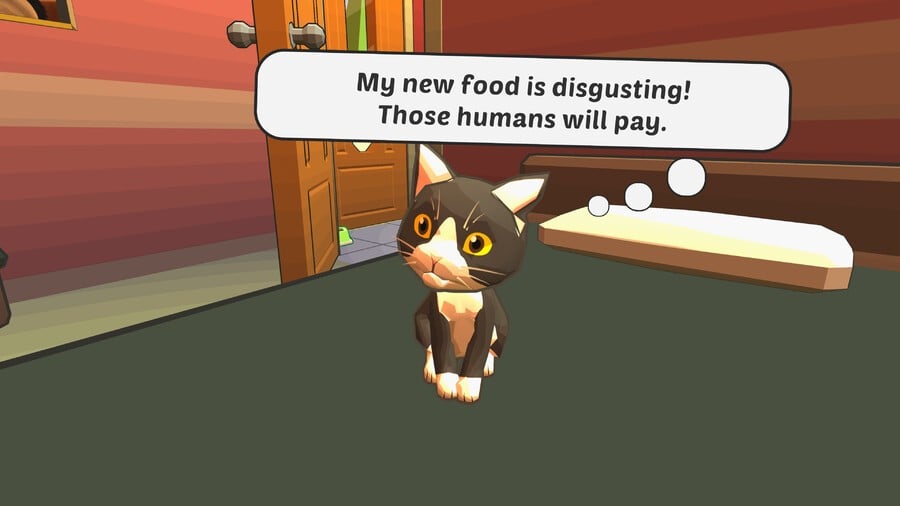 We didn't expect Catlateral Damage to make a return, but cats do have nine lives, we suppose. The fur-st person feline simulator arrived on PlayStation 4 back in 2016, but after giving the game a bath and a brush, developer Chris Chung has overhauled his indie title. Catlateral Damage: Remeowstered is the result, and it's leaping onto both PS5 and PS4 in September.
Announced via the PlayStation Blog, this updated version of the game keeps the core idea while polishing up the graphics and making a few gameplay changes where needed. You'll still be wandering around procedurally generated houses and knocking objects from shelves, but it'll all look and feel that much better in Remeowstered. There are improvements to the "user interface, animations, and overall visuals", but most notable is a "complete progression redesign", which introduces Goals Mode and has you unlocking new modes and stages by reaching certain, well, goals.
The remaster also adds new real-life pet photos to find, new interactive elements like scratching up curtains, and purr-sistent stat boosts and upgrades. On PS5, the game will run at 4K, has faster loading, and support for Activity Cards — as well as DualSense haptics, which will let you feel the cat's purr when it takes a nap.
Buying the PS5 or PS4 version of Remeowstered entitles you to the other, so you can enjoy the cat-astrophic chaos on either system. It launches on 15th September. Will you be checking this one out? Sleep in a cardboard box instead of that expensive bed we bought in the comments section below.
[source blog.playstation.com]