PlayStation games have always come in pretty ordinary boxes. The PS1 had its CD-like jewel cases, the PS2 kept things standard with a DVD box, PS3 shrunk things a little to match standard Blu-Ray releases, and it's been roughly the same since. Aside from its handheld machines, Sony's consoles have stuck to pretty regular game cases — but with PS2, the platform holder nearly went in a very different direction.
A new article has highlighted designer Hock Wah Yeo and his outlandish packaging creations. Towards the end of the feature is a segment about a never-before-seen concept for PS2 game boxes, and it's mad. Apparently, Sony approached him in the late 90s to design a brand new case for its upcoming console, and true to his style, he came up with this: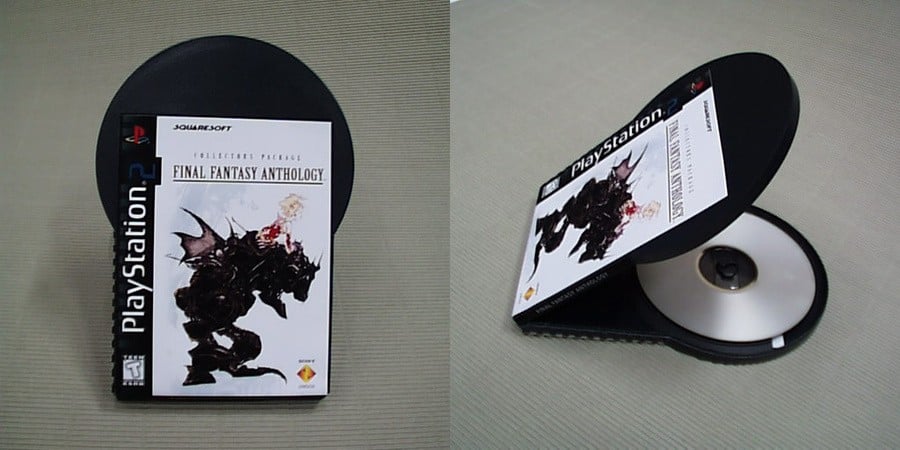 Highly impractical but brilliantly weird, this was nearly what PS2 game boxes would look like. The cover art is pretty small when you compare to the size of the disc, and it's hinged on the bottom, so you'd be viewing the artwork sideways as you open it. The prototype looks cool, but this would've been an absolute nightmare to store neatly at home or in a shop, so it's no real surprise that Sony Japan stepped in and cancelled the project. In the end, of course, we got standard DVD boxes, but we could've had these obscurely shaped cases to contend with in the early 2000s.
It's a fascinating little story, but we feel like Sony made the right call in the end. What do you think of Hock Wah Yeo's unusual PS2 game box design? Discuss in the comments section below.
[source obscuritory.com, via kotaku.com]