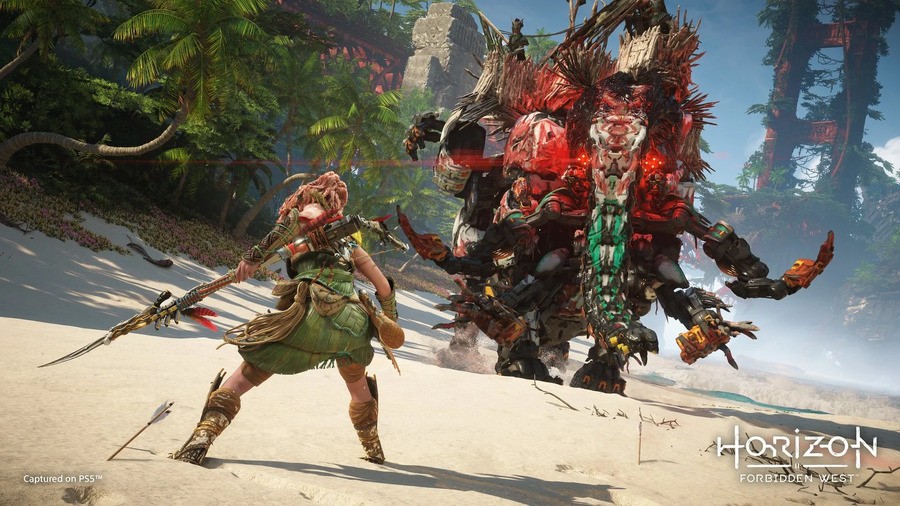 As part of a new interview with Game Informer, Guerrilla Games has revealed that "a lot of" Horizon Forbidden West development and playtesting is actually taking place on the PlayStation 4 instead of Sony's latest console. The chat then goes on to explain how the PS5 version includes a different water rendering technique compared to its last-gen counterpart and the "hero lighting" surrounding Aloy will only be available in cutscenes on PS4.
Game director Mathijs de Jonge said: "A lot of the development has taken place on the PlayStation 4 and a lot of playtesting is also done on PlayStation 4 so we are ensuring that owners of that console will have a great experience and that the game will look fantastic on that console. For the PlayStation 5, we can go much further of course. Visually we can add a lot more detail graphically, the rendering technique for the underwater scenes is special on the PlayStation 5 — it has extra detail and extra systems."
The game will also take advantage of the DualSense controller, simulating the pull of a bow and its tension through the Adaptive Triggers. "The Haptic Feedback is more immersive in that sense, and then we have 3D Audio which is also great." The interview then goes on to reveal Horizon Forbidden West will indeed feature a free-form climbing system, an overhauled skill tree, a new melee system with combos, different biomes, and a workbench system for upgrades.
[source youtube.com]