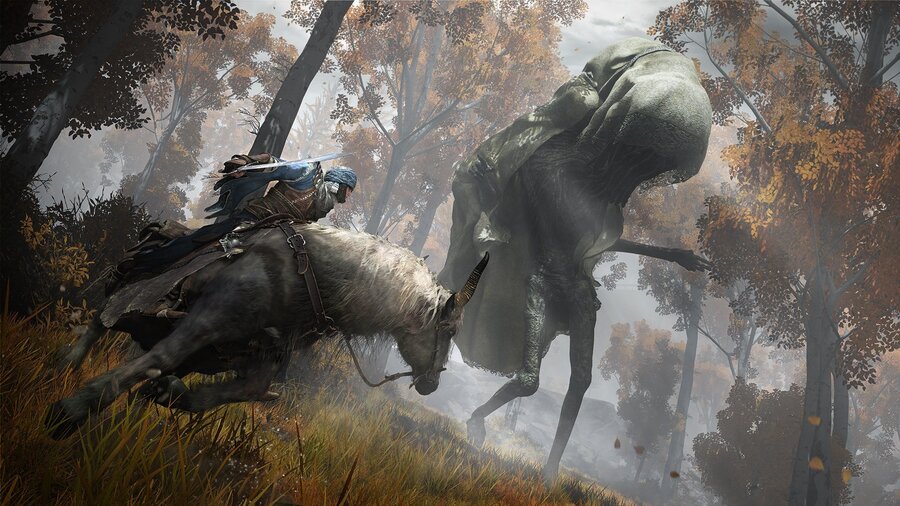 The online multiplayer capabilities of FromSoftware titles are always an interesting topic, so it's no wonder Japanese publication Famitsu quizzed Elden Ring director Hidetaka Miyazaki on what fans can look forward to when teaming up with friends in The Lands Between. Using Google Translate, Miyazaki explains that players can group up with buddies pretty much whenever they like.
He said: "With some exceptions, multiplayer is possible even in large open fields. You can also enter the boss battle as it is. However, please note that you will not be able to ride in multiplayer." When Miyazaki refers to "ride", he means using your magic horse to traverse the environment. Therefore, it appears Elden Ring multiplayer is more designed to be used in specific circumstances — maybe for a tough battle or to solve a puzzle. You can indeed explore the entire open world with friends, but it's going to take a lot longer to get to places without your horse.
After mentioning Elden Ring is FromSoftware's biggest ever game and that a playthrough focused mostly on core content will take roughly 30 hours to complete, Miyazaki then returns to multiplayer components. He mentions the use of groups to dictate how you use asynchronous elements like blood stains and messages left on the ground. It's here where the translation becomes a little shoddy, but we believe what the Elden Ring director is saying is that you can streamline the sort of online mechanics present in your own game.
You will input words into a system, which then matches you up with a group corresponding to those needs. "Until now, information on 'phantoms', 'death blood stains', and 'messages' was always only 'an unknown one of many players', but that was identified within the group. However, the aim is that there may be new meanings and emotional movements by providing information on players who know it to some extent, or by assuming that it will be delivered to such players."
It's not the easiest thing to understand because of the translation, but Miyazaki hopes this will "create a feeling of playing a game with someone while connecting loosely, without having to play multiplayer directly". So you're not actually interacting with another player, but you will share elements with people in the group. We think?
[source famitsu.com]