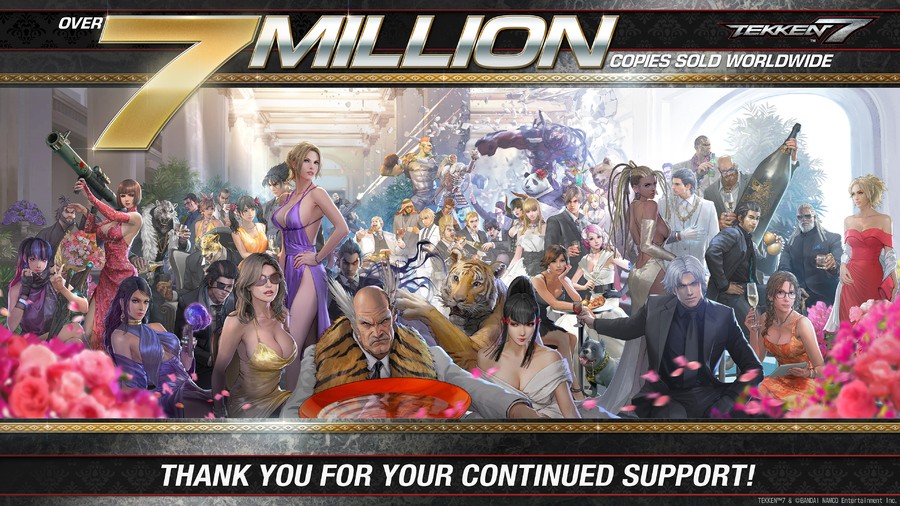 Tekken 7 has reached yet another milestone in its quest to become the best selling Tekken title. The PlayStation 4 brawler has smashed its way to 7 million copies sold, which is, as always, very impressive for a fighting game these days. The last sales update that we received was in September last year, so it's taken just seven months to shift another million units.
To help celebrate, the developer has once again added to its character artwork, which you can find at the top of this article. It now includes the most recent DLC fighters, Kunimitsu and Lidia.
It's safe to assume that Bandai Namco never envisioned this level of success for Tekken 7. The game's on its fourth season pass, and professional tournaments still draw a decently sized audience on websites like Twitch.
Tekken 7 is now closing in on the sales record set by Tekken 3. The PS1 classic remains the series' biggest seller, with Bandai Namco previously stating that it had moved 8.36 million copies on Sony's inaugural system.
Of course, the question now is whether Bandai Namco should continue supporting Tekken 7, or whether it should just move on to the inevitable Tekken 8. It's easy to forget that Tekken 7 is around six years old now, starting with a limited release in Japanese arcades. It arrived on PS4 in 2017.
Are you still playing Tekken 7? Land a slow-mo finish in the comments section below.
[source twitter.com]