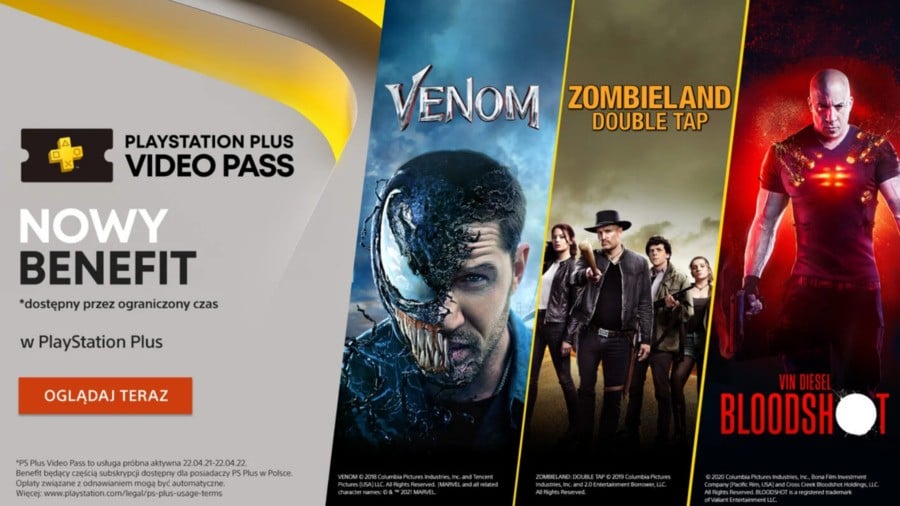 After something called PlayStation Plus Video Pass was leaked yesterday, Sony has confirmed to Polish website Spider's Web (as reported by VGC) that the service expansion is real. However, for the time being, it's only being tested in Poland.
So what's the deal? Well, starting today, PlayStation Plus Video Pass allows PS Plus subscribers to access "over 20" movies and TV shows from Sony Pictures (with new video content being added every three months). That's in addition to the usual PS Plus benefits of online play, "free" monthly games, and exclusive PlayStation Store discounts. In other words, Sony is looking into how it can improve its PS Plus offering.
Okay, but why is it being put to the test in Poland? According to Sony global services vice president Nick Maguire, it's because PlayStation's Polish audience fits the bill in terms of usage data. Maguire explains: "We know very well that we have a large base of players in Poland who stand out due to their commitment and activity in the network and social media. They also like to use VoD platforms. For us, this is the perfect combination, the perfect market, to introduce a test service as part of the PS Plus program and see what our key users think about it."
"Of course, I cannot share the exact data on the basis of which we chose Poland. However, I can emphasize that Poland meets all the criteria that are important to us, your country is a mixture of very important factors from this perspective," Maguire continues.
It's an interesting approach from Sony, and the fact that it's being tested in just one region suggests that it's not quite so sure whether PlayStation Plus Video Pass is capable of success on a global scale.
In any case, this is a story that we'll be keeping a close eye on. Should Sony find the addition to be a hit in Poland, it'll likely start thinking about its distribution in other territories. But is this something that you'd like to see Sony add to PS Plus? Give us an honest opinion in the comments section below.
[source spidersweb.pl, via videogameschronicle.com]