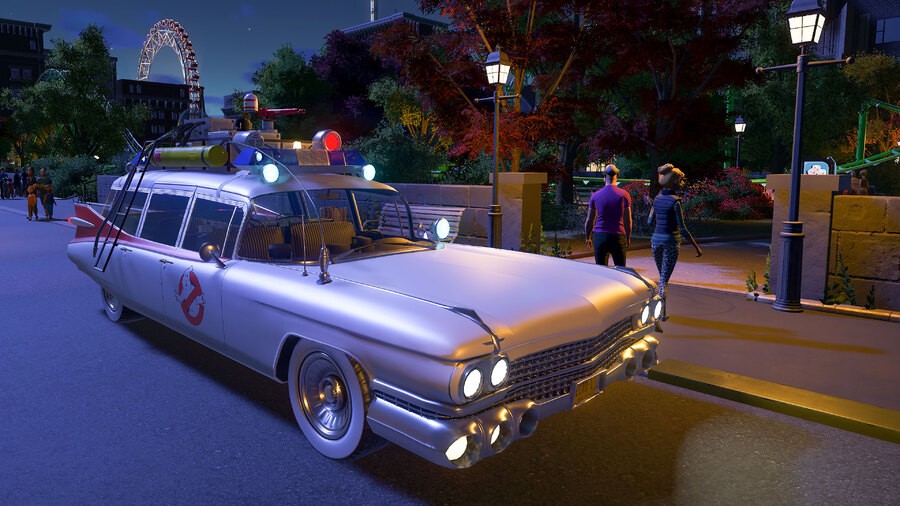 Who you gonna call for new Planet Coaster: Console Edition content? Ghostbusters, of course! Frontier has announced a new licensed expansion for its theme park management sim – set to release on 29th April for PlayStation 5 and PS4 for £12.99/$14.99 – which will add the likes of ECTO-1 and Stay Puft Marshmallow Man to your library of blueprints.
Featuring sound effects direct from the 1984 movie, in addition to two new rides – the RollerGhoster and the Ghost Busters Experience – you'll be able to truly boost interest in your park. There's even a new story-driven scenario that you'll be able to complete, featuring the vocal talents of Dan Aykroyd and William Atherton.
If that's not enough, a separate expansion, the Studios Pack, will allow you to "choreograph heart-pounding stunt shows, design exciting backlot tours, and create cinematic thrill rides that put guests right in the heart of the action". That one comes with a ton of blueprints and construction pieces, as well as three additional rides.
The Studios Pack is also due out on 29th April, and will cost £7.99/$9.99. Are you planning to enhance your parks with this DLC at all? Book a day trip in the comments section below.