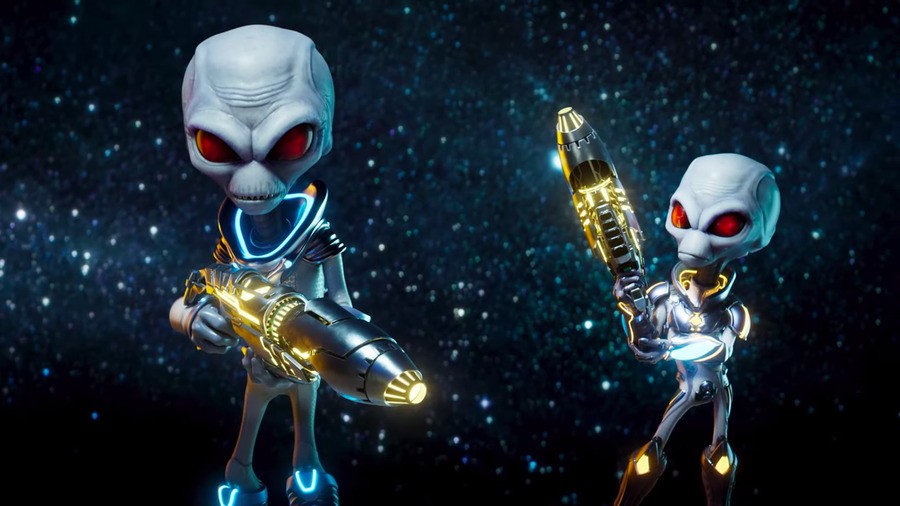 THQ Nordic brought back Destroy All Humans last year, a cult hit action game about invading a stylised '50s America and, well, destroying humans. Fans were obviously delighted, and studio Black Forest Games made some decent quality of life changes to gameplay too. Now, it appears the publisher might be teasing the revival of its sequel.
Set a decade after the first game, Destroy All Humans 2 follows Crypto-138 on a mission to Earth during the swinging '60s. Last week, murmurings began of a remake when THQ Nordic posted this video promoting a sale on the 2020 remake. At the end, Crypto-137 is approached by Crypto-138 — wearing his Destroy All Humans 2 outfit. The dialogue between the pair further suggests a remake could be on the cards.
This same clip can be seen in the new trailer for a set of free skins for the first remake. In a tweet, THQ Nordic says "Join the invasion and you might get to Destroy All Humans too," which seems like another clue to us.
While we can't say for certain that a remake of the sequel is happening, it seems fairly cut and dry from where we're sitting. We're sure an official announcement will be made relatively soon. Would you be interested in a remake of Destroy All Humans 2? Grab your ray guns in the comments section below.
[source eurogamer.net, via twitter.com]