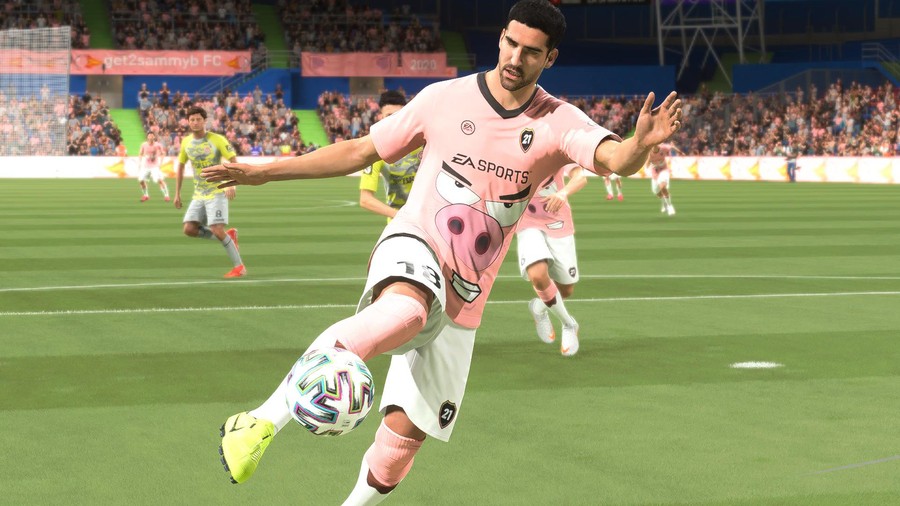 Love it or loathe it, there's unquestionably something cool about building a squad of superstars in FIFA 21's uber-popular Ultimate Team mode. Sure, you'll need to no-life the release in order to add the likes of Mbappe and Ronaldo to your roster, but even if you're stuck with Raul Garcia and Andy Carroll upfront like this unfortunate author, it's still entertaining opening packs, knowing that there's a less than one per cent chance of finding something half-decent inside.
I've been a casual player of FIFA Ultimate Team for a few years now, and while it's never quite got its claws into me like the vastly superior Diamond Dynasty in MLB The Show, I think the sheer number of professional footballers around the globe gives EA Sports' soccer sim a density that the American sports simply can't match. Yes, you end up with a binder full of mediocre midfielders from the doldrums of the Swiss Super League, but such variety makes completing sets so much more rewarding.
One thing I felt in the early days of the mode, though, was that it needed more cosmetic customisation; building a team is all well and good, but outfitting Messi in Rotherham United's threads never really made sense to me. Over the years, the publisher has slowly started to introduce original kit designs and logos, and it finally took the concept seriously with this year's instalment, adding the rudimentary stadium creator functionality.
But some of the items it's offering have been befuddling me since the beginning of the season. For example, you can now drape a tifo behind your goal to augment some much-needed personality, but as part of the title's latest season I unlocked an 8-bit wizard. Some other highlights I have in my binder: two knights chugging goblets of ale and a cauldron of bats. Nothing quite screams "Ultimate Team" like a logo of a bear, does it?
I've been bemused by this for a while, but I was prompted to write this article last night when I logged in to the release and was awarded a free kit as a reward for my ongoing subscription to EA Play: it's a pink jersey with a clipart image of a pig's face on it. Who wants this? How did it happen? For one of the biggest and most-played franchises on the planet, I just can't fathom how these are getting into the game – compare them to the kind of cosmetics you find in Call of Duty: Black Ops Cold War.
Even Madden NFL 21, a series which clearly gets a fraction of the budget of FIFA, has better cosmetics: yes, it'll charge you unseemly sums for the privilege to wear them, but at least you get the sense it's put some effort into its original uniforms. Meanwhile, over in MLB The Show 21, you can not only design your own Diamond Dynasty outfits, but you can also download custom logos and artwork from an ever-expanding vault to make it your own.
I know that the cosmetics are secondary to the core card collecting loop in FIFA 21, but I actually think that these unlockables are so bad they actually detract from the overall product. Look at the game's marketing: it's slick and cool, with eye-catching colour palettes and striking fonts. No one wants to spend millions of coins on a 92-rated Mohamed Salah, only to dress him in a kit with a painting of a badger on it.
---
What are your thoughts on FIFA 21's unlockable cosmetics? An embarrassment, or irrelevant? What threads and tifos have you kitted your Ultimate Team out with? Does this matter, or should EA Sports be doing a lot better? Make an Italian statue your emblem in the comments section below.