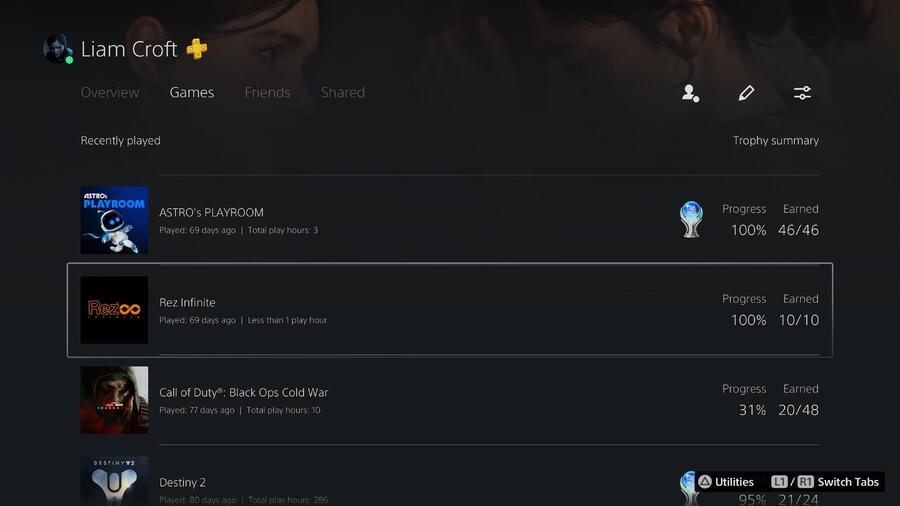 Over the past few days, have you taken a look at your profile on PlayStation 5 and noticed a game listed you haven't actually played when the console says so? You're not the only one in that case. Reports are building up across the web of the PS5 profile page swapping out recently launched titles with something completely random — it's affecting a number of editors here at Push Square and community members over on our forum. The PS5 or PlayStation 4 game supposed to be there is correct when you button through, but on the surface, it looks like you've played a load of random titles from years back.
Take the image above for example — the Rez Infinite slot you see there is actually Gone Home: Console Edition. This happens more and more as you go down the list of PS5 and PS4 games we haven't booted up in years replacing recently played titles. Forum user ShaiHulud reckons it could have something to do with the recent Resident Evil Village Maiden demo, which those affected here at Push Square have indeed downloaded and played. We can't say for sure this is what's causing the malfunction, but it's a possibility. And while this probably isn't the biggest issue Sony is having to deal with right now, you know, we would like to look back on your PlayStation gaming history with accuracy.
Are you also encountering this problem? Let us know in the comments below.
[source Topic: Displayed game list incorrect]