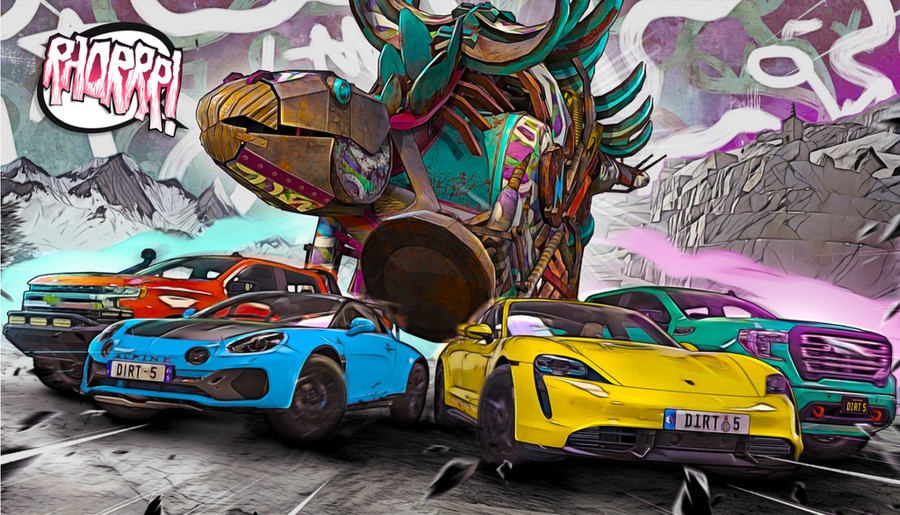 DIRT 5 is Codemasters' brash, colourful arcade racer, and while it's rough around the edges, it's definitely worth checking out. As with most games these days, it launched with a long roadmap of post-release plans, and a wave of new content is right around the corner.
If you have the Amplified Edition of the game or the year one upgrade, you can look forward to the Energy content pack. This DLC adds four new vehicles playable across the game, 25 new career events, two new sponsors, and a bunch of extra customisation options. You'll be able to buy this pack separately too, if you're interested. It crosses the finish line on 22nd February.
However, that's not the only thing coming later this month. Free to all DIRT 5 players, an update will bring lots of new stuff to mess with in the Playgrounds mode. This will include Junkyard-themed items and obstacles, as well as a new arena.
Codies is also touting a major game update. Update 3.00 as it's referred to will add the aforementioned Playgrounds goodies, but will also "include various technical fixes and optimisations" as well as community-driven changes like an increased level cap. More details on what this patch does are coming nearer the time — hopefully it improves the haptic feedback functionality of the DualSense on PS5.
Anyway, are you looking forward to all this DIRT 5 goodness? Powerslide into the comments section below.
[source dirtgame.com]