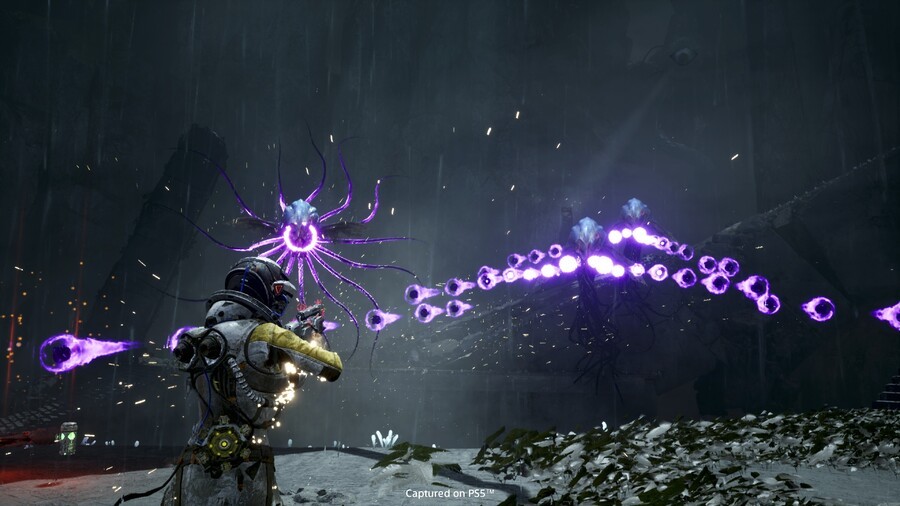 Returnal sees developer Housemarque going back to its arcade roots, and the game is shaping up well so far. This third person shooter blends together fast-paced, responsive gunplay with various rogue-lite elements, and we're hoping for an entertaining, highly replayable romp. It's Housemarque's biggest game yet, and we can't wait to play it for ourselves.
Fortunately, it isn't too far away. In two months, the game will crash land on PlayStation 5, and we can all enjoy the terrifying time loop that main character Selene gets herself into. If you really can't wait and want to lay down some cash, pre-orders are open now. Well, they've been open for a little while, but we thought you'd be interested in seeing the pre-order bonus.
Whether you pre-order physically or digitally via the PS Store, you'll secure yourself a pair of in-game suits for Selene. Pictured above, you'll unlock the ASTRA Model 9 Prototype Suit and the ASTRA Model 14 Tactical Suit. It's unclear at this point if these outfits grant any gameplay benefits, or if they just look cool. Given this is Housemarque and this is a crazy arcade action game, we wouldn't be surprised if they came with some sort of perk, but we'll have to wait and see.
Are you excited for Returnal on PS5? Will you be rocking these pre-order suits? Blast away in the comments section below.
[source reddit.com]