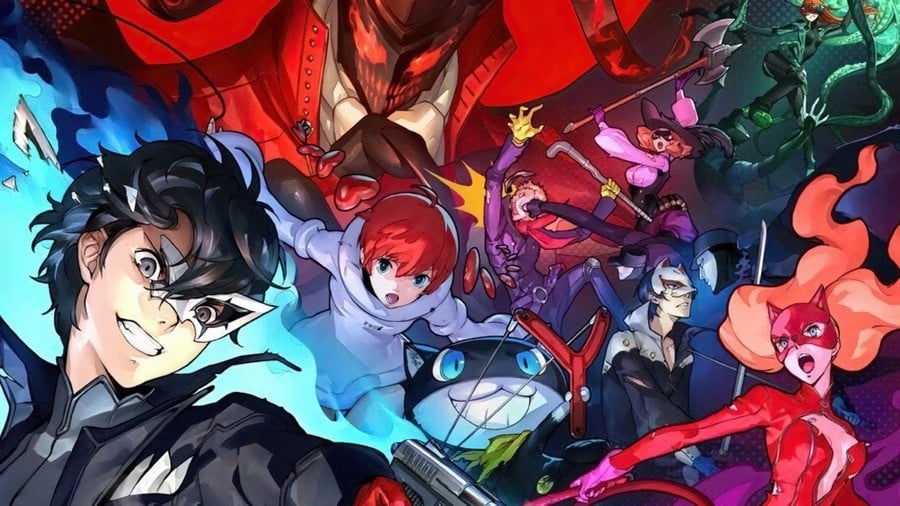 We've said this before, but Persona 5 Strikers is not the game that a lot of people think it is. Yes, it's co-developed by Omega Force — the Koei Tecmo studio responsible for the Dynasty Warriors series and its many, many adaptations — but this isn't just some hack and slash spinoff. We've spent around ten hours playing through the opening chapter of Persona 5 Strikers, and while we'd hesitate to call it a full-blown sequel to Persona 5, it's still shaping up to be a another fantastic outing for The Phantom Thieves.
Strikers takes places after the events of Persona 5, in the summer that follows on from Atlus' outstanding RPG. The Phantom Thieves — each member now busy with their own life — reconvene in order to plan the perfect group vacation. Needless to say, you're going to struggle if you haven't played Persona 5. Strikers isn't impenetrable, but as you'd expect, everything makes a hell of a lot more sense if you're already familiar with Joker and the gang.
Beyond its action-packed prologue, Strikers immediately starts to feel like Persona 5. The ultra slick presentation, the lengthy dialogue scenes, the crisp character portraits — everything's just as you remember it. On a surface level this is just more Persona 5, and that's certainly not a bad thing if you're a Phantom Thieves enthusiast. What we're trying to say is that Strikers doesn't skimp on story or characters. It's as much an RPG as it is an action game, and although it doesn't boast quite the same depth as its predecessor, it's still much more involved than you might expect.
'Streamlined' is the word that we'd use, and not with any negative connotation. The biggest structural difference between Strikers and Persona 5 is that there's no 'free time'. Instead of getting to decide on how to live out Joker's day-to-day life, you're simply funnelled from one main plot scenario to the next. In that sense, Strikers is a more linear experience, but the faster pacing suits the often frantic action that awaits within the game's sizable new dungeons.
Yep, The Phantom Thieves are at it again, saving reality by conquering the Metaverse — a twisted dreamscape that reflects the ambitions of society's most warped individuals. Strikers' dungeons are large and reasonably varied, combining exploration, puzzle solving, and some light platforming. Of course, they're also where you'll go toe-to-toe with shadows of all shapes and sizes, and this is where Strikers once again deviates from the blueprint of Persona 5.
It trades turn based battles for action combat, complete with free movement, combos, and crazy special attacks. But look past the button mashing basics and you'll soon find that Strikers attempts to, er, strike a nice balance between all-out chaos and meaningful strategy. Just like in Persona 5, exploiting an enemy's elemental weakness is the key to victory — just hammering away at the attack button will only get you so far, especially when tougher foes enter the fight.
You're also free to switch between characters — both in and out of combat — and each member of The Phantom Thieves comes with their own set of unique attacks and combos. There's quite a bit of nuance to discover, and you steadily unlock additional techniques by racking up kills with each hero. Strikers is more Final Fantasy VII Remake than it is Dynasty Warriors. It's about switching to the right thief at the right time, managing your resources, and making sure that you aren't overwhelmed. The game even pauses as you select persona abilities, giving you time to survey your surroundings and make tactical decisions on the fly.
We really like how combat is shaping up, but we will say that the on-screen action is sometimes a little too chaotic. Picking out individual enemies in a crowd can be difficult when there are approximately one million different visual effects being launched at your eyeballs, and your AI-controlled companions are always pulling off flashy moves that coat the screen in colour. You do eventually get used to the madness, but the first couple of hours can be frustratingly feverish.
Minor complaints aside, we're loving Persona 5 Strikers. It's not quite a sequel sequel and it's not quite a spinoff, but it is bloody good fun. The Phantom Thieves appear to be back with a bang.
Oh, and that rock remix of 'Last Surprise'? Unbelievably good.