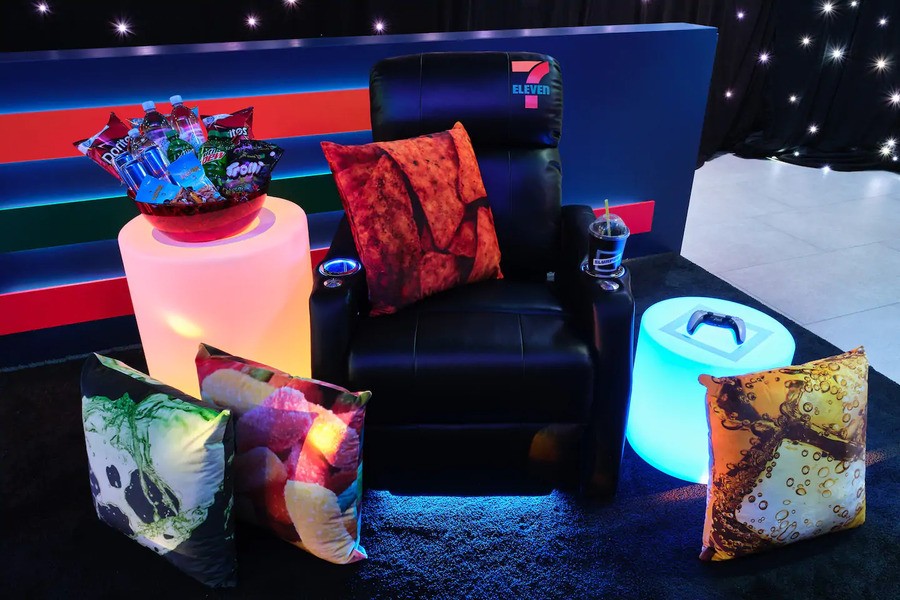 Want to play a PlayStation 5 but can't find stock? Dozens of different US brands are pulling together to give Dallas County residents the "night out of a lifetime" – inside an unopened 7-Eleven Evolution Store! The event – hosted by crocked Dallas Cowboys quarterback Dak Prescott for some reason – will see you (and a plus one from the same household) spending the evening in a "plush futuristic gaming palace", where you'll be able to play Sony's new console and down as many Slurpees as your stomach will allow.
You'll need to book the night out through Airbandb.com, and you can look forward to a "game pod featuring a big screen TV, luxury loungers, and DualSense controllers". You'll also be able to enjoy "an exclusive one-hour Twitch streaming session with popular gamer and founder of world-renowned gaming organization FaZe Clan, FaZe Temperrr". And you'll have unlimited access to "7-Eleven drinks and snacks, including a Slurpee drink station, Laredo Taco Company tacos, and other favourites such as Red Bull, MTN DEW, and Doritos".
Now, obviously we're in the middle of a pandemic, so safety is a priority. "7-Eleven is taking extra steps to protect its game-all-night guests during the pandemic," the website explains. "Sanitation measures include a team of certified biohazard professionals disinfecting the location prior to guest arrival, along with health screenings for guests, personal protective equipment (PPE), and hand sanitizer stations."
This is all part of a wider promotional push from 7-Eleven and Sony, which will see promotional Slurpee cups available nationwide, various PlayStation prizes up for grabs, and collectible PS5 bags given away with 7NOW delivery orders. Honestly, the amount of branding in this press release makes our head spin, but we suppose this is the way things are done across the pond.
[source airbnb.co.uk, via brenhambanner.com]