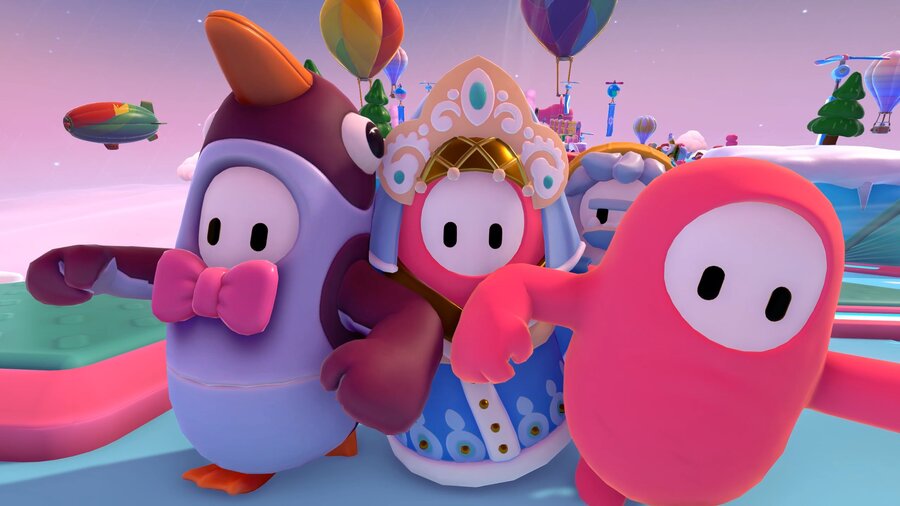 Tis the season to be jolly, and games don't get much jollier than Fall Guys. The 60-player battle royale platformer is kicking off a wintry Season 3 from today, and there's lots of new stuff to go over. In a lengthy Twitter thread, Mediatonic goes over all the new levels as well as some of the major updates to the game that Season 3 brings.
There are seven new stages being added to the rotation with this new season; some are new concepts, while others are winter-themed spins on established rounds. Thin Ice is a frozen Hex-a-Gone and Roll Off is a final round version of Roll Out, but the other new stages sound more exciting. Tundra Run and Freezy Peak are two new obstacle course levels that include floor flippers, fans, and snowballs to try and throw you off course. Ski Fall has you descending a large icy slide, jumping through hoops to score points. In Pegwin Pursuit, teams chase a wind-up toy penguin, aiming to hold it for the longest time. Finally, Snowy Scrap is another team game in which you must roll a snowball over certain spots to grow its size faster than the others.
Season 2 added a few new levels, but Season 3 adds more, and what sounds like more imaginative, stages to the game. Of course, there will be lots of new costumes and other items to unlock as you play.
As well as new rounds and outfits, Season 3 introduces new features and other changes. Crown Ranks bring even more value to those wins, as the crowns you earn will help you unlock exclusive goodies as you climb the ranks. An in-game bulletin board will help players keep up to date with Fall Guys news, which is a sensible addition. Strangely, you'll also be able to link your Amazon Prime account to the game in order to get some extra rewards. Other improvements include better messaging on error screens, more control over camera sensitivity, and plenty of bug fixes.
Fall Guys Season 3 arrives today on PlayStation 4. Will you be jumping back in to take a look? Make some snow angels in the comments section below.
[source twitter.com]