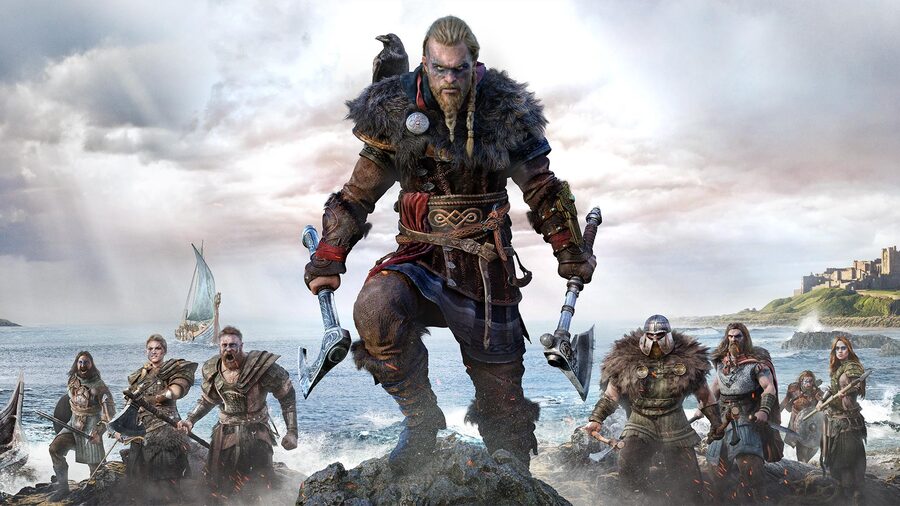 Update: Assassin's Creed Valhalla patch 1.010 is available to download now on PS5 and PS4. As Ubisoft said, it's around 2.5GB in size. You can find all of the update information below, in our original article.
However, one thing that isn't highlighted in the patch notes is that this update adds three new perks to the skill tree, increasing Eivor's maximum power level to 403.
The three skills in question are:
Arrow Looter - Increased chance to loot arrows from archers
Assassin Carry - Hold down the assassination button to automatically carry the body of your target
Fight Ready - Always start combat with one Adrenaline slot filled
---
Original Story: Assassin's Creed Valhalla's second big update will launch tomorrow (that's the 15th December), Ubisoft has confirmed. Patch 1.1.0 adds support for the Yule Festival — the game's first wave of 'seasonal' content. The developer says that more information on the Yule Festival is coming soon.
What's more, the update fixes an absolute boatload of bugs and other glitchy issues. For starters, the trophies that you can have crafted from the parts of legendary animals will finally appear in your settlement's longhouse.
The update is around 2.5GB on PS5, and 2.4GB on PS4. Nice to know it's not a huge download.
Assassin's Creed Valhalla Update 1.1.0 Patch Notes
Added in-game support for the Settlement expansion and Yule Festival -The Yule Festival is a time-limited event with several festivities to enjoy and rewards to obtain. To bring this and future festivals to life, you'll see the arrival of the revellers just east of the current settlement.
We'll provide more details about the Settlement expansion and the Yule Festival in our upcoming Yule Season Preview article. Stay tuned.
Miscellaneous
Legendary animal trophies will now correctly appear in the Longhouse.
Balancing
Tweaked the NPC power level behaviour.

NPCs power will now be at a maximum difference of 51 below the player.
NPCs that are 51 power below the player will be highlighted in green.
World bosses will match the player's power level when the power exceeds the world bosses' base level. (also applies to: Alpha animals, Zealots)
This change applies to all difficulties.

Added loot-able chests to the Grand Magaester's hideout.

Note: This hideout is only available from a very specific moment in the game. Spoilers.

Addressed an issue where the Crit. Spark rune would not work when slotted into bows.
Addressed an issue where wrong weapon stats were displayed for specific items.

Royal Guard
Viper Bow
Death-Speaker
The Mark of Sol
Doppelhander
Hundtoth
GAME IMPROVEMENTS
Performance and Stability
Improved stability and performance.
Graphics, Audio, Animation
Addressed various graphics issues.
Addressed various character or NPC animation issues.
Addressed various clipping issues.
Addressed an issue where fish may lay on its side during the fishing animation.
Addressed an issue where some NPCs would cut the air instead of wheat. Practice doesn't always make perfect.
Addressed an issue where NPCs that are being assassinated while being unconscious would sometimes get up during the animation.
Tattooed Mimir's head.
Addressed an issue with jagged sea foam.
Beyond these overall patch notes, we're looking at very specific fixes for all kinds of quest and gameplay bugs. You can read the full list of improvements through here.
We'll be sure to update this article once the patch is live on PS5 and PS4. Until then, join your raiders in the comments section below.
[source ubisoft.com]