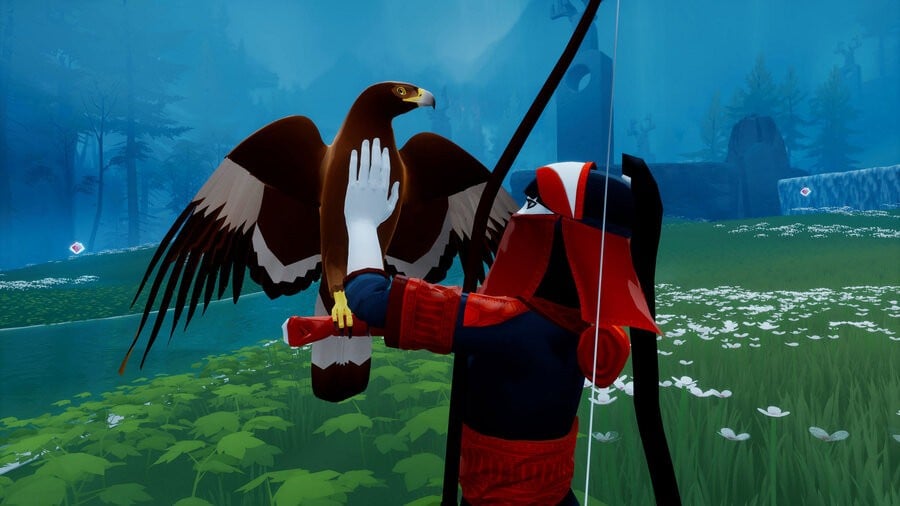 The PlayStation 5 already has a pretty killer launch lineup, so what's one more? The Pathless, from ABZU studio Giant Squid, is getting its first batch of reviews, and it looks like another solid launch game for PS5 owners.
The cross-gen sandbox adventure is being praised for its sizeable open world, exhilarating traversal, and gorgeous art style. We've selected a few critiques for you to peruse below. As for the Push Square verdict, don't worry — we'll bring you our thoughts as soon as we can.
IGN - 8/10
The Pathless combines a simple but fun movement system and a world brimming with secrets to uncover.
The Pathless is a wonderfully different game that makes you feel like you have ownership over the entire experience and are not being led along by a pre-scripted playbook.
I hope it's clear that I really enjoyed The Pathless, a game that prior to playing hadn't really caught my eye. I hope it isn't lost amongst the PS5's bigger, noisier releases, as it's something different and uplifting. It's rare to find such tension and threat in a game that's also so peaceful, but Giant Squid has managed it. In truth we could all do with a bit of light in our lives at the moment.
The Pathless switches effortlessly between relaxing exploration and exhilarating story moments, and it's altogether incredible.
Most of The Pathless plays to its mechanical strengths, free-form exploration, satisfying movement, and methodical puzzle-solving. At times, that lowers the stakes a little too much, but it maximizes the kind of gameplay the game is named for. For a player like me, who bee-lines for an objective every time, it's refreshing to simply take things as they come. The Pathless is the rare game that gives you more by not asking too much, and that makes it special.
Vast maps bring out the best in this sparse yet memorable adventure.