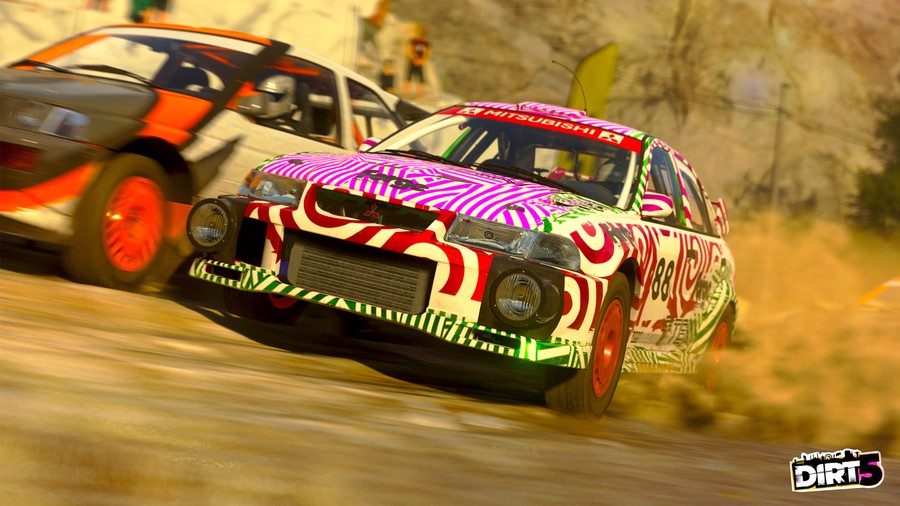 A game update for DIRT 5 is now available to download for both the PlayStation 5 and PS4 versions. The off-road racer launched in decent shape, but it wasn't without some issues. One of the biggest complaints was prominent screen-tearing, and another issue saw the title fail to recognise save data from previous game builds. With patch version 1.04, Codemasters aims to solve these problems and more.
First off, V-Sync has been added to the game, which is tech that should solve any issues with screen-tearing. That save data bug has also been fixed, and the game has received a general quality check, improving performance, resolving crashes, and more. One interesting point is that, on PS5, Codemasters has taken the time to improve how the game uses the DualSense controller's adaptive triggers. Additionally, one of the game's most time-consuming Trophies, 'Spare Some Change for Gas?', has been nerfed. Instead of needing to drive a total of 10,000 miles, you now only need to cover 1,000 miles. Phew!
Here are the patch notes relevant to the PS5 and PS4 editions of the game:
Multiple general performance improvements across the board, reducing instances of crashes, gameplay stuttering and FPS drops, further optimising general gameplay
PS4: Resolved issues caused by save data created before previous patch, such as progress disappearing upon game restart and crashes when using livery editor
PS5: Further refinements to the use of DualSense adaptive triggers
PS4/PS5: V-Sync added
Fix for crash caused by signing out during a Gymkhana event
Visual improvements to rain effects on windshield when using interior camera views
Display fix for rewards screen in post-race menu
Photo mode: minor fixes and optimisations
Multiplayer: improvements in kicking players in lobby who do not ready up for an event
Multiplayer: general improvements to online matchmaking and lobby searches
The Trophy 'Spare Some Change for Gas?' will now require players to race for 1,000 miles, instead of 10,000
You can check out the full patch notes through here. Patch 1.04 is about 1.7GB (on PS4, at least) and is available now. Have you been playing DIRT 5? Drift into the comments section below.
[source dirtgame.com, via twitter.com]