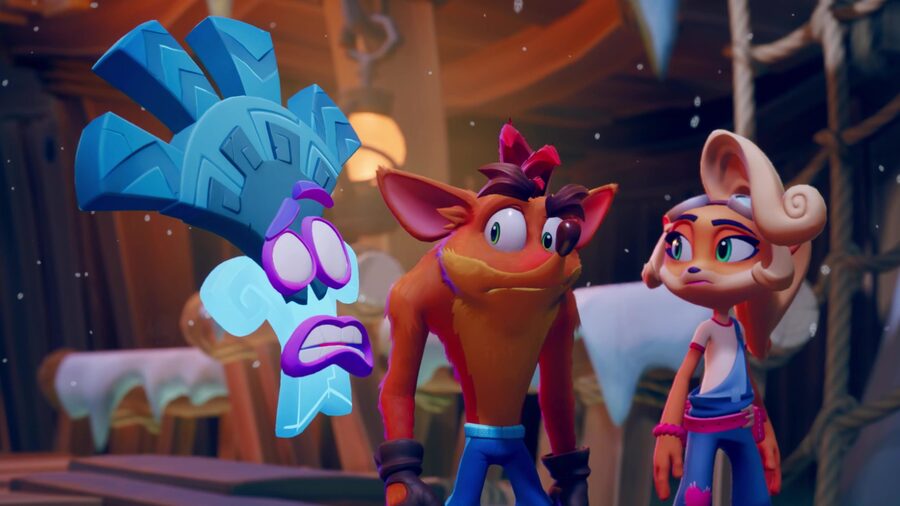 Crash Bandicoot 4: It's About Time is a great return to form for the marsupial mascot, but his latest game was somewhat overshadowed by the arrival of next-gen (now current-gen, we suppose). Of course, the launch of PlayStation 5 hasn't dissuaded hardcore Crash fans from completing the new game 106 per cent. Doing so is an exercise in patience, and we commend anyone who can endure such a feat. Totally completing Crash 4 gets you a unique ending, as well as some Trophies of course, but there's one tiny Easter egg that has fans scratching their heads.
As discovered by Kevin Fagaragan, if you have 106 per cent in the game and spin the TV in the very first level, something new will appear. After showing the logos for Crash 1, 2, 3, and 4, the telly will very briefly display a mysterious logo before switching off.
In case you didn't catch that, someone ripped the image from the game, which you can view here. It's a wumpa fruit, with orange and blue colours swirling around it. We can confirm that this logo does not appear by default, or if you just beat the game normally.
This is likely hinting at something Crash-related coming in the future, but what, exactly? There are a few possibilities. Some have assumed it's hinting at Crash Bandicoot 5, but it seems a tad early to be thinking about that. Others have suggested it could be referring to a remake of Crash Bash, the PS1 party game. We'd say it could also suggest some form of DLC is coming; perhaps a batch of fresh levels, or expanded multiplayer. Some are even speculating that a standalone, competitive multiplayer Crash game is on the way.
Whatever the case may be, it seems the bandicoot is sticking around, which is fine by us. We'll of course update you on this if and when we hear more. What do you think this logo means? Have your say in the comments section below.
[source twitter.com, via resetera.com]