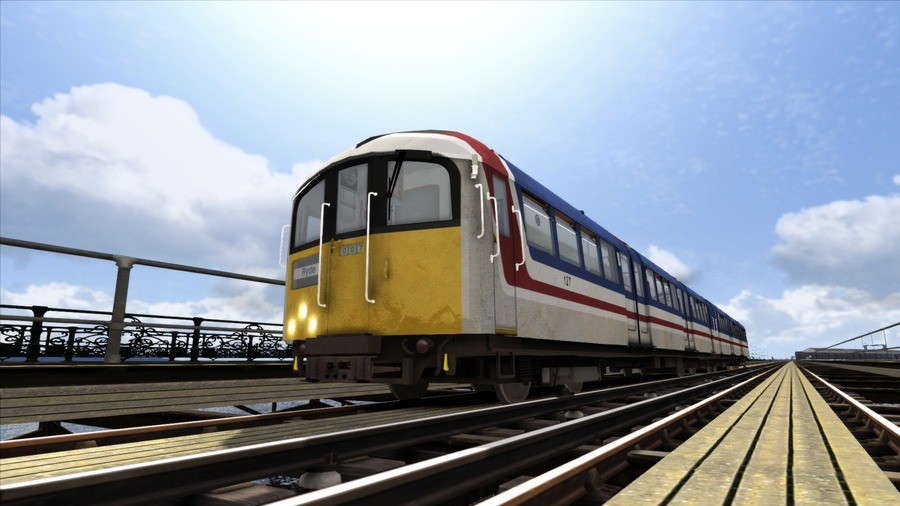 You can't travel many places at the minute, for reasons we don't need to repeat. To be honest, it's all a bit depressing, isn't it? We feel you. That's why we had such a fantastic time travelling across the Isle of Wight by train this weekend. It's a new addition to the evolving Train Sim World 2 platform, and it offers a serene tour of the idyllic island, situated south of the British coast.
This is the first major expansion for the simulation since it launched earlier in the year, meaning it leverages all of the sequel's new features, including its vastly improved control scheme. One of the disappointments of the legacy content that developer Dovetail has been adding is that it still uses the previous version's cumbersome control setup, so we appreciate the quality of life improvements here.
In terms of scale, this is quite a short journey, with just a handful of stops and approximately 12 kilometres of track to travel across. You'll be commandeering the legendary BR Class 483 from Shanklin through to Ryde, with your journey ending aboard the island's pier. That final stop is actually a joy to drive, as you travel out into the English Channel.
The BR Class 483 itself is a really fun consumer train to drive. It's a pretty straightforward locomotive to operate, with a really powerful braking system that makes arriving at your destinations pretty easy. The topography of the Isle of Wight itself does introduce some interesting challenges, though; sticking to the speed limit as you navigate slopes requires some concentration.
Many of the stations along the route are relatively small and unassuming, but you definitely get the seaside feel as you approach Ryde and the seafront area. It's a vibe that's been largely absent in Train Sim World 2 outside of the East Coastway expansion, so it adds some variety to the in-land journeys across Germany.
It also, honestly, presents the perfect opportunity to unwind during these difficult times. Simulations like this are an acquired taste, of course, we respect that – but we've found travelling across such a beautiful island in a relatively easy to operate train a real opportunity to chill out. You can even grab some ice cream along the way!
---
Are you open for a little virtual tourism on the PS4 with Train Sim World 2? Take a trip to the seaside in the comments section below.