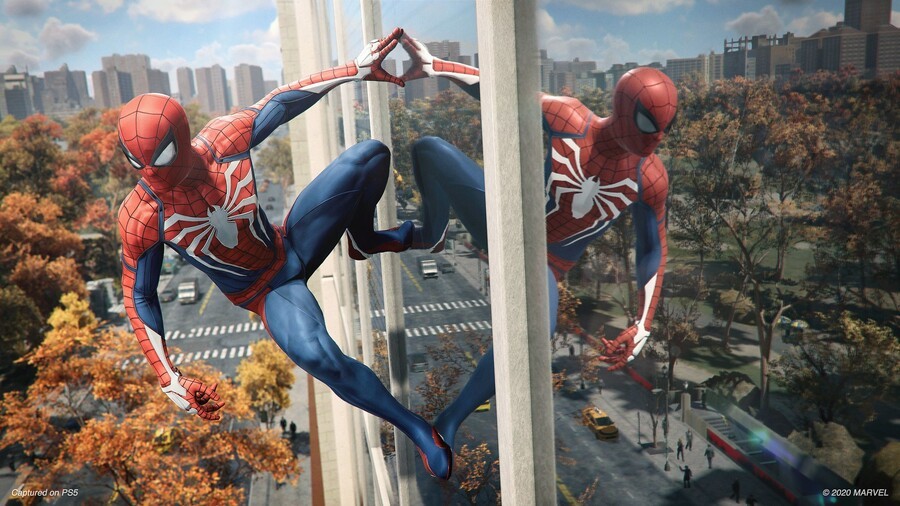 Good golly gosh, Marvel's Spider-Man: Remastered looks unreal in these newly released PS5 screenshots. The original game already looked great on PS4, but the power of Sony's next-gen console is clearly going to have a noticeable effect on Spidey's adventure.
Oh, and Peter Parker has a new face. Like, a totally new face. Developer Insomniac already said that it would be using an updated model for the protagonist on PS5, but we didn't realise it meant that he would look like a completely different person.
This is how remastered Spidey looks underneath the mask:
"In order to bring the best performances to players with our next-generation Marvel's Spider-Man games, we have recast the face of Peter Parker. We loved working with John Bubniak on the original game; however, to get a better match to Peter Parker/Spider-Man actor Yuri Lowenthal's facial capture, we have cast Ben Jordan to be the face model for Peter Parker on the PS5 console. He looks incredible in-game, and Yuri's moving performances take on a new life," Insomniac writes on the PlayStation Blog.
And yes, that is The Amazing Suit. It's one of three new suits added in the remaster.
Anyway, it looks damn good doesn't it? The developer goes into some additional detail: "Beyond improved models and materials, one of the biggest things we have brought to the game is ray-traced reflections and ambient shadows. We now have true reflections on the windows of buildings, and it looks stunning with our new skies and weather."
Will you be swinging through Marvel's Spider-Man: Remastered on PS5? Get yourself a new look in the comments section below.
[source blog.playstation.com]