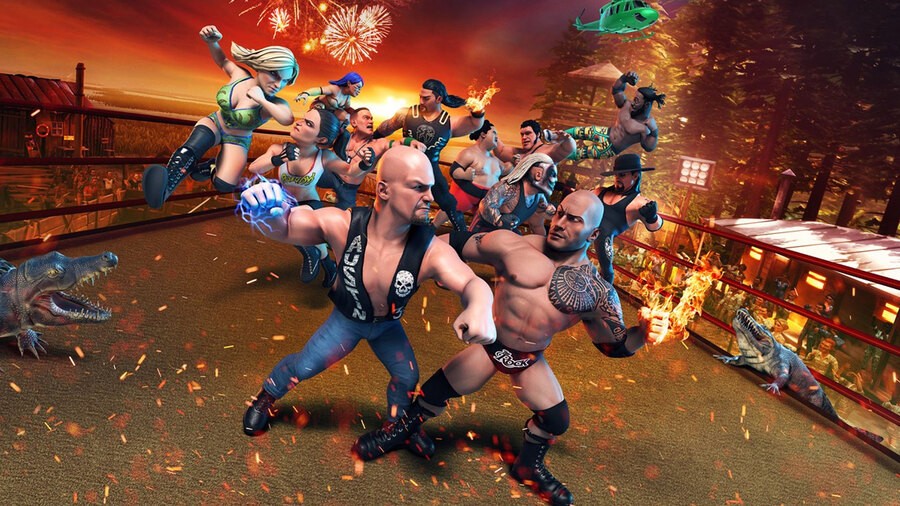 We're exactly a month away from the launch of WWE 2K Battlegrounds and so you might be wondering which wrestlers, new and old, will be part of the roster at launch. IGN bagged the exclusive on this one, revealing that more than 70 of WWE's finest will do battle in this arcade-style brawler at release on 18th September 2020. 2K also has a long list of wrestlers it will add through post-launch support.
There are far too many fighters here to list every single one so we'll let the graphic below do most of the talking, but the game will include the likes of AJ Styles, Becky Lynch, Daniel Bryan, John Cena, and Sasha Banks at launch. You know, the usual bunch. Edge can also be yours through a pre-order bonus.
Meanwhile, the additions made after launch largely focus on wrestlers of the past. We've got the late, great Eddie Guerrero, Batista, Booker T, Chyna, Lita, and Sting. Rather interestingly though, the likes of Rhea Ripley, Sami Zayn, and Sheamus won't be a part of the main roster -- you'll need to acquire them after launch. These lot do still wrestle, right? This scribe hasn't been watching WWE for quite some time now.
Anyway, is your favourite wrestler part of the bunch? Are there any glaring omissions? Let us know in the comments below.
[source ign.com]