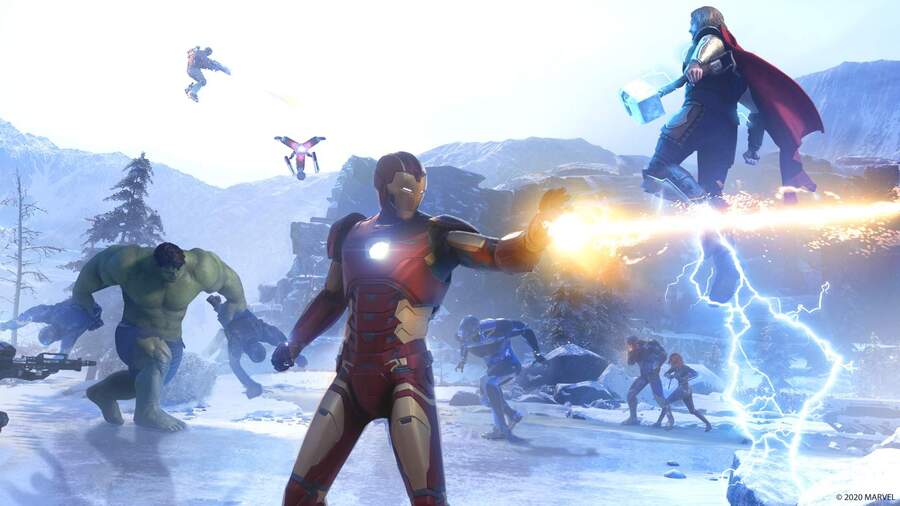 Sony is absolutely making sure that PlayStation is the best place to play the upcoming Marvel's Avengers, and it'll prove that from the moment you boot up the game for the first time. You won't have to wait until Spider-Man arrives in 2021 to get your hands on some exclusive goodies because Crystal Dynamics has detailed yet more reasons why you should be experiencing Marvel's Avengers on PlayStation 4, and eventually, PlayStation 5.
First off are Community Challenges. These are tasks that the whole community can work towards in order to unlock a pool of rewards over a certain period of time, and some of these challenges will only be found on PlayStation. Players will also have 30 days of exclusive access to a legendary outfit, legendary emote, epic takedown, and nameplate for each superhero as they are released post-launch -- this also goes for the six Avengers included in the base game. PlayStation Plus subscribers also benefit with a free bundle of 100 Credits and a rare outfit for every hero released after September. This initiative starts as soon as the game launches though with an exclusive Ms. Marvel bundle.
Don't forget that PS4 players can also take part in an exclusive beta weekend starting this Friday. You'll need to have pre-ordered Marvel's Avengers to gain access, so for more information head on through this link. Does this entice you even more into picking up the PS4 and PS5 copies of Marvel's Avengers? Assemble in the comments below.
[source blog.playstation.com]