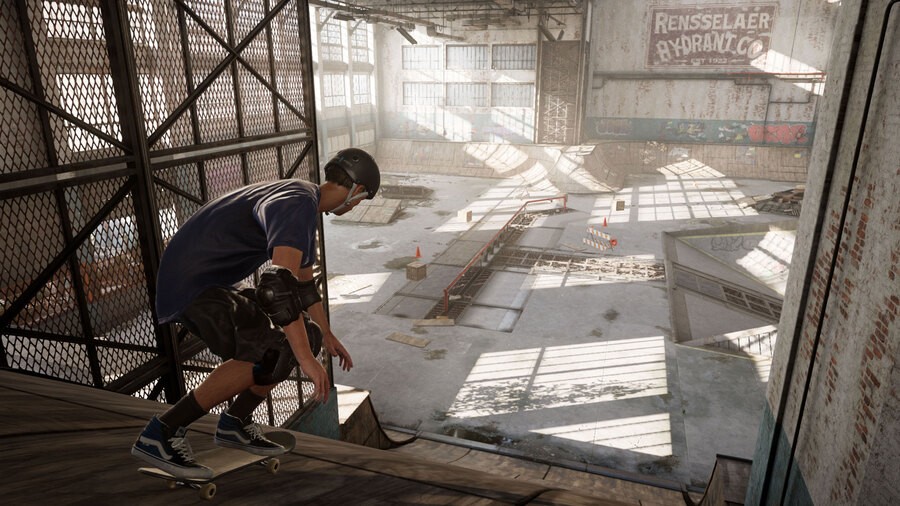 If it wasn't clear already, it has to be said: Activision knows how to do a remake. The publisher has proven many times that it's capable of reviving its old franchises for a modern audience, and it looks to be doing the same for its legendary skateboarding series. Tony Hawk's Pro Skater 1 + 2 brings back the beloved titles on PS4, and the collection is sure to deliver longtime fans a huge dose of nostalgia. We were fortunate enough to gain early access to the Warehouse demo, showcasing the very first level of the original game. We're happy to report that it feels like a return to form.
It's fair to say the Tony Hawk franchise has had its ups and downs -- we probably don't need to remind you of the disastrous Pro Skater 5. For a while, though, the games were unstoppable, becoming hugely popular thanks to tight controls and a killer soundtrack. It's this portion of the series' history that the remake is looking to recapture, and it really nails the feel of the first few games.
While this is a remake of the first two titles, the handling feels more in line with later entries. Controls are extremely tight and more refined than what was in those original PS1 games. All the inputs burned into your brain are as they should be, and combined with rock solid, 60 frames-per-second performance, it's buttery smooth to play. That said, there's a snappiness to animations and how the character moves that gives this an old-school, arcade feel. This isn't a bad thing; it means the remake feels exactly as it should. It feels like a proper Tony Hawk game.
The gameplay is authentic to what you remember, but be warned, you may need to relearn some skills. With nearly every button triggering a different branch of tricks or techniques, your digits will be dancing across your DualShock like nothing else. It's a complex control scheme that feels great when you get to grips with it, but it took us a while to get back into the groove of chaining together tricks with reverts and manuals. It can be quite punishing, and sometimes the game can feel a little too rigid, but it's a blast once you learn the ropes.
The Warehouse demo contains what you'd expect. You're able to play two-minute Quick Sessions in this small stage, and the level looks great. The visuals are of course an enormous improvement on the original, and the Warehouse is exactly as you recall. You start on the upper level, zoom down a big slope, and have access to a grind rail, set of ramps, and a big half-pipe. It's a very basic stage, but it's brilliantly recreated, and shows a lot of promise for the rest of the remake.
All the gaps you remember are present and correct, complete with that familiar camera shutter sound effect. However, the tapes, collectibles earned by completing simple objectives, are sadly missing. The demo is all about the two-minute run, seeing how many points you can squeeze from every inch of the Warehouse. It's a pretty limited demo, but you'll likely find yourself playing it over and over again as you get back into that Tony Hawk mindset. It's testament to how fun these games can be that we happily played this dozens of times, testing the limits of our abilities and aiming to complete all those gaps. You can also assign different special tricks to the Birdman himself -- the only playable character in the demo -- so there's a little bit of customisation to tinker with there.
Overall, we came away from the Warehouse demo very happy with Tony Hawk's Pro Skater 1 + 2. It plays exactly as it should, looks great, and when you add in the music, it really does take us back. We're excited to check out the full game when it arrives on 4th September. If this is anything to go by, we should be in for another nostalgic treat.
---
Those who pre-order will be able to play this for themselves from 14th August. Will you be taking a trip to the Warehouse with the Tony Hawk's Pro Skater 1 + 2 demo? Grind into the comments section below.