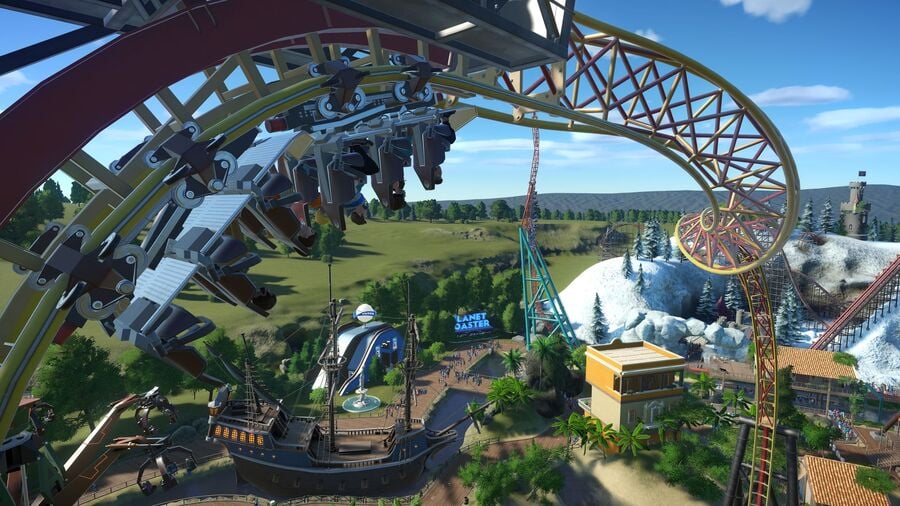 The dearth of management games on the PlayStation 4 has been one of the sins of the system, so we're grateful for Frontier's commitment to the genre. Having already found success with Jurassic World: Evolution, the UK-based developer is now bringing Planet Coaster to Sony's current-gen and next-gen consoles, aiming to occupy the gap vacated by Theme Park.
We got to spend over an hour with the PS4 version, streaming the release directly from the studio's devkit in Cambridge. While this wasn't a long enough session to truly appreciate the intricacies of the management simulation, we were able to get to grips with the basics of building attractions and balancing our finances.
Our demo opened with a tutorial designed to get us to grips with the controls. Mapping so many complicated commands to the DualShock 4 is always a tough task, and you'll need to push multiple buttons in order to perform straightforward actions, like speeding up time. Still, once you've wrapped your head around the basics, you'll be populating your park in no time.
We dived head-first into the sandbox mode, where we were given unlimited funds and plenty of open space to do as we please. There are different themes that you can design your park around, including pirates with treasure troves and shipwrecks and magical castles with dragons and unicorns. You could even mix and match these styles if you wanted, to create different sections to your park.
In the interests of simplicity, though, we decided to start off with a rudimentary Ferris wheel located to the east of our entrance. As is the case with Theme Park, you'll need to build queuing areas and exit paths for your customers, with the flow of your park being essential if you hope to earn big bucks eventually.
There's an emphasis on decoration that adds a layer of challenge to the gameplay. For example, customers don't like to queue in bland open expanses; they want to be entertained while they wait, so improving the scenery around a ride will enhance their overall experience. This means that they'll not only come away happier, but be willing to pay that little bit more.
As always, monitoring the feedback from your customers is an important pastime, and you can click on anyone in your park to see what they think. We were losing serious money on our food outlets, but we realised that most customers weren't willing to pay $13 for a Hot Dog, so we pulled the price down and started to turn things around as patrons queued up for some mystery meat.
The game gives you the freedom to construct your own buildings and structures using components that can be connected together, but wrapping our head around this during a short hands-on proved impossible, so we moved over to the rollercoasters instead, installing a giant log-flume that wrapped around our aforementioned big wheel.
One of the neat things about the coasters is that you can experience them from a first-person perspective just like your patrons, and it's quite interesting seeing your park from the perspective of your customers – even if ours only had a couple of rides. We imagine this will be extremely entertaining when you've put hours and hours into building an epic location.
Our only gripe with these modern management games is that sometimes the landscape is awkward to work with, and while you do have the ability to tweak it to your tastes, we do miss the simplicity of working from grids. Our sandbox stage, for example, had hills and a lake separating the main land masses, and it would have taken us hours to transform it into a blank canvas to build from.
Nevertheless, we really enjoy these types of titles, and as long-time fans of Theme Park on the PS1, we came away fulfilled from our preview here. Much like Jurassic World: Evolution, developer Frontier appears to be striking the right balance between strategy, simulation, and simplicity, making for an experience that's accessible without sacrificing too much depth.
---
Will you be queuing for Planet Coaster when rides to PS5 and PS4 later this year? Scream if you want to go faster in the comments section below.