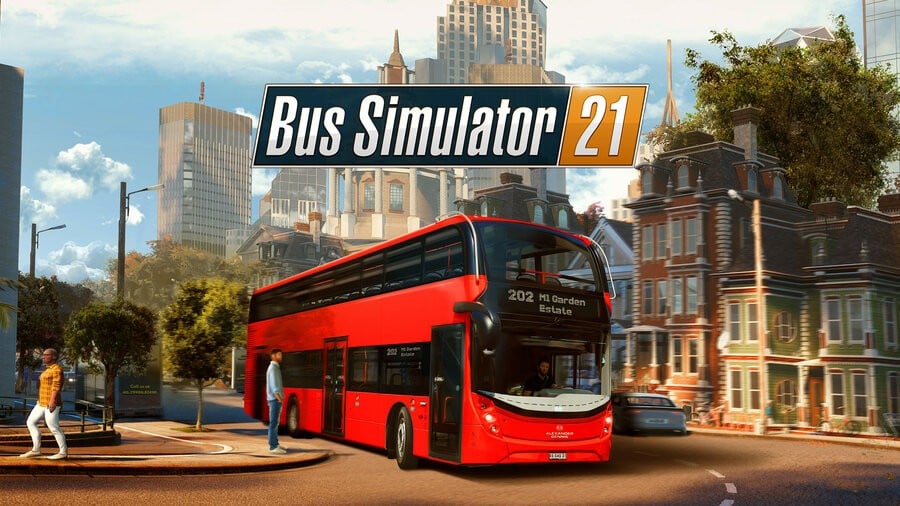 Bus Simulator on the PlayStation 4 straddled the line between serious simulation and silly sandbox, which resulted in an occasionally unwieldy but otherwise likeable title that knew exactly what it wanted to be. Bus Simulator 21 is shaping up to be more of the same, but developer Still Alive is improving the experience in all the right areas, and we're looking forward to building our own public transport empire all over.
While the original European map will be bundled in at launch – along with its meaty post-release expansion pack – the Austrian developer is focusing on its new setting of Angel Shores, which has been inspired by the American West Coast. Rather than create a backdrop that's fully realistic, this feels like the studio's own interpretation of modern America, and it looks set to feed into the team's tongue-in-cheek sense of humour – expect plenty of gags while you're ferrying passengers about.
Crucially, the art direction has taken a colossal step forward. This is a much busier, more interesting backdrop than the clinical scenery of its German-esque setting. There's an entire Chinatown area, complete with enormous archways and overhanging lanterns. Looming overhead is a city area, complete with skyscrapers. And around the perimeter are traditional housing estates and a harbour – it doesn't make much sense, but it feels varied and interesting. Which is key.
There's so much more going on this time as well. The streets feel busy with traffic, pedestrians, flags flowing in the wind, and much more – it's clear the team has tried to make its sandbox feel much more like a living, breathing location. Crucially, you'll have more buses than ever before to drive through these districts, and despite the US setting, the developer is touting its partnership with UK manufacturer Alexander Dennis – which means there'll be double-decker buses.
Again, it doesn't really make sense, but the studio is clearly favouring entertainment over true authenticity here. Where games like Train Sim World 2 are all about putting you on the track and demanding perfection, Bus Simulator 2021 primarily wants you to smile. That's not to say it'll be short-changing you in terms of detail, however: all the buses are authentically modelled, and the team's even been busy recording the sound effects for new hybrid buses it plans to include.
The game wants to keep you on the road more than the previous version, however. With that game you were constantly navigating menus as you built up your transport empire, but here you'll be able to hop between buses and routes as you please, with the AI taking over whenever you switch to a different seat. The multiplayer will return, so you'll be able to run routes with pals, or just have a friend check tickets for you if you prefer.
While the developer is streamlining things, it's eager to point out that there's depth for those who want it. For example, you'll manually be able to manage your timetables if you prefer, so you can account for periods of busy traffic. But you can let the game handle all of that for you if you don't want to – it's entirely up to you. Features like ticket purchasing have been retained, although they've been streamlined this time around.
All in all it looks like a pleasant update. The developer clearly understands what works with this franchise, and while it's still clearly a relatively modest release in terms of scope and production values, the art direction has taken a huge leap forward which is good to see. There's no word on a PlayStation 5 version, although the studio says it will be playable on Sony's next-gen console through backwards compatibility. We're excited to get back behind the wheel next year.
---
Will you be taking a ride with Bus Simulator 21 next year? Punch your ticket in the comments section below and let us know.